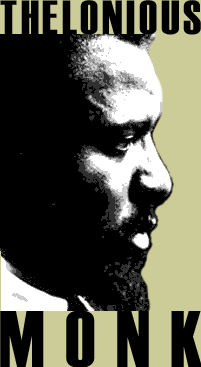 By Wil Forbis

Dig it Daddy-o. You're at the Five Spot, New York city, 1956. Monk is banging out angular melodies on the piano while Trane soars high above him. Art Blakey pounds out synchronious, erratic beats on the drums. Off to your right is a white cat, high on something, arhythmically snapping his fingers in the air, a faraway look on his face. A young Negro doll saunters up to you and coyly whispers an invitation in your ear. Suddenly, a large dragon appears out of the men's room and emits and twenty foot blast of flame that vaporizes two club patrons and a waitress. People began screaming and then the zombies attack, hoards of them, clawing about for the taste of human flesh. But Monk keeps playing, dimly aware of what's happening around him, lost in the world of his music.
Did stuff like that really happen at clubs like the Five Spot in the 50's? Beats me, I wasn't even born yet. (I'm pretty sure I made up the part about dragons and zombies.) But there's no doubt that in the 40's and 50's, jazz clubs like the Five-Spot, Mintons, Max's Kansas City and the Blue Note were happening scenes. Jazz was in its prime. It had matured from dance hall swing but had yet to be turned into the safe soulless "jazz" glop that now provides background noise for call-waiting. It was an experimental and dynamic artform, always taking chances, always breaking new ground, a speedboat racing down the alligator infested Amazon, barely held on course by improvisational admirals like Miles Davis, Charlie 'Bird' Parker, Dizzy Gillespie and, of course, Thelonious Sphere Monk.
How did I, Wil Forbis, the whitest cracker around come to dig on Monk and that bebop subset of jazz he co-founded with other participants of the late night jams in jazz clubs in the forties? It's a funny story actually - I owe my discovery of Monk to my mother. My mom's given me a lot over the years - my seething "just below the surface" misogyny, my confident belief God will never let me be happy, my manic episodes of creative highs followed by crushing lows of artistic impotency*, my hated of broccoli - BUT she also left several Monk albums at my Dad's place. (I think it was in the divorce agreement - she got the kid, he got the Monk albums.) One summer there, near the age of 18 and fresh faced from two years of guitar playing and a love affair with heavy metal (that continues to this day I might add, lest you clowns accuse me of becoming "sophisticated") I picked up a couple albums, curious about this Monk cat I'd heard a bit about in the guitar mags. I placed said albums on the turntable and was blown away!
*Artistic impotency folks. I'm still packing WMDs when it comes to the bedroom.
Now jazz in and of itself is enough of a headtrip, especially for the uninitiated, but Monk's music was (and is) some kind of monster. Most jazz musicians of the forties made at least passing acknowledgment to the melodic jazz standards that came before them. But Monk sounded like a six-year-old kid frying on acid while trying to play his favorite clown music. You could hear the roots of his sound - stride piano and the blues - but it was clear he had gone in a direction at that point unseen in popular music. His compositions were unpredictable, unpararelled, and unprecedented!
Technically the music Monk played would be titled "Bebop." Bebop is the music style best knowing for coining the lyric, "Bebop a loo-bop, she's my baby!" but it was that and so much more. As forementioned, it was formed out of jams in the forties involving the jazz greats of the era. Charlie Parker's Bebop was a fast paced assault of dense notitude and stop time rhythm. Miles Davis was more laid back, like a slow ooze of honey (or flesh eating acid.) (Davis wouldn't really secure his place in jazz history till he started the "cool" jazz sound of the fifties.) Monk's bop contained the complex harmonies and crazed rhythms particular to the style but beyond that he was doing his own thing. His melodies leapt about the keyboard in wide intervals, his rhythms locked into syncopations only found by the most surgically precise dissections of the basic jazz groove, his improvisations dealt as much with empty space as they did with actual sounds. And yet despite all that, there was a certain childishness to his compositions. His question and answer motifs sounded like the singsong melodies your toddler brother or nephew might endlessly whistle before you stuffed him in a crate and sold him to the weird bachelor gentleman down the street.