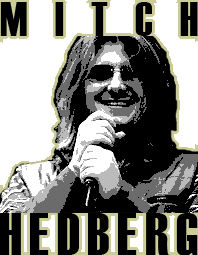 By John Saleeby
How did as nice a guy as Mitch Hedberg make it in as vicious a Business as Stand Up Comedy? Most Stand Up Comics are stomping around like Hell's Angels at a Stones concert but Mitch was always so cheerful you would think he had just gotten out of bed with Carol and Alice in "Bob And Carol, Ted And Alice". People who don't know anything about drugs say he was only so happy because he was high, but those of us with a lot of experience with dope will tell you . . . Hey, let's put on some Pink Floyd! No, I meant to say that those of us with a lot of experience with . . . Hey, man, do you have any ice cream? I could really dig some ice cream right now, man! Anyway, those of us with a lot of . . . Wow! It looks like that goldfish is singing along with Roger Waters on the CD, man! "All in all I'm just a goldfish in a bowl!" Hee hee hee . . . Okay, okay, I'm gonna quit foolin' around! I'm gonna be serious now . . . Do goldfish ever fart? Hee hee hee . . . Okay, okay, those of us who have a lot of experience with dope know that getting high doesn't make you happy. If you're bummed getting high makes you really bummed, if you're pissed getting high makes you really pissed, if you're Aerosmith getting high makes you The Joe Perry Project and then back to Aerosmith, if you think I've already made my point getting high makes you really think I've already made my point, but Mitch was always happy no matter if he was high or not. Was he The Most Pleasant Man In The Entire History Of Stand Up Comedy? Hell, he was quite possibly The Only Pleasant Man In The Entire History Of Stand Up Comedy. Although I do remember seeing this guy Dean Martin on "The Tonight Show" and he seemed to be a pretty nice guy for a Stand Up Comic. Oh? He was singing? Oh, I didn't know, I had the sound turned off so I could listen to Pink Floyd "We don't need no Jerry Lewis!" Wow, man, that goldfish freaks me out!
Nope, Mitch was not exactly Mister Show Biz - That's one reason he was so likable. In an age when ten year old kids sit around talking about Jay Leno and Conan O'Brien's battle over "The Tonight Show" with more certainty than who their real father is, Mitch's lack of Entertainment Savvy was truly admirable. Fox signed him up to do a Sit Com Pilot and he quite innocently went to Hollywood and sat around waiting for somebody to put a Show together for him. That is not how it works - If you can say that it has ever worked to begin with. If a Comedian doesn't know exactly what he wants to do with his TV Show he is going to wind up listening to every damn fool in LA's terrible ideas about what he ought to do until everybody gets depressed and they finally tell him to get lost. One idiot told Mitch he should do a Show about a Tennis Pro! Yeah, sure - Mitch Hedberg as a Tennis Pro, why not? How about Mitch as a Cambodian Tennis Pro? A Cambodian Tennis Pro with no legs? A Female Cambodian Tennis Pro with no legs and a Siamese Twin played by Andy Dick? I know the Cambodian-Siamese thing is kind of mixed up but, Hey - It's only Television! I have no idea why that didn't work out.
The most enterprising thing Mitch ever did was marching into the MTV offices one day demanding an audition. Kind of hard to imagine Mitch doing anything so aggressive, but that's the kind of pushiness it takes if a Comic doesn't want to end up Writing David Lee Roth jokes for Acid Logic. Mitch may have presented himself as a useless stoner but useless stoners don't go very far in this World - Unless they've got a bad ass Guitar Player! (David Lee Roth joke!) If Mitch hadn't died of a drug overdose I might suspect that his Fabulous Furry Freak image was a fake. Sure, it's terrible that he's dead, but what if he had sobered up, become Born Again, and was Charlie Sheen's replacement on "Two And A Half Men"? That's so creepy it makes me wish that Ashton Kuchar had died of a drug overdose. And John Cryer. And that fat kid. And Charlie Sheen. And Wil Forbis. And that creep that knocked up Brenda Song . . .
JON CRYER: Hey, Mitch! What's going on?
MITCH HEDBERG: God's righteous anger at the sinful TV Comedy Writers, My Brother!
JON CRYER: What?
MITCH HEDBERG: We must kneel in Prayer beseeching the Lord to guide us in doing a Good Clean Family Show!
JON CRYER: Oh, I get it - You're improvising!
MITCH HEDBERG: That's correct! This script has too many FORNICATION Jokes!
(Mitch sets fire to the script, throws it on the sofa, and falls to his knees as the Studio explodes in flame)
MITCH HEDBERG: SAVE US, JESUS!!! SAVE US, JESUS!!! SAVE US, JESUS!!!
JON CRYER: That's it! From now on I'm working strictly with Jews!
(The Fat Kid runs in with a machete and cuts Cryer's arms off)
FAT KID: Ph'nglui mglw'nafh Cthulhu R'lyeh wgah'nagl fhtagn!!
I would never wish such a thing on the American People. Unless they reelect Obama. Then - Fuck em.
Mitch was as far away from being an Entertainment Industry Professional as you can get without playing bass in the Sex Pistols and stabbing your girlfriend to death in the Chelsea Hotel. Did he know how to Tap Dance? Anybody ever see Mitch Tap Dance? How did a guy like Mitch ever make it onto Network Television without knowing how to Tap Dance? Shit, if James Cagney could get up and start Tap Dancing all of a sudden in "Yankee Doodle Dandy" you'd think everybody in Show Business knows how to Tap Dance. I always suspected that I never made in Show Business because of my crippling lack of Tap Dancing skills. Every night before I went to The Comedy Cellar to do my 1:30 AM set all those guys like Jon Stewart, Louis CK, and Tod Barry were in there TAP TAP TAP TAPPITTY TAPPITTY TAP TAP all over the place in Top Hats and Tails like Bugs Bunny and those flits in that "Oh, We're the boys of the Chorus . . . " Cartoon. And then I'd walk in and . . . "STOP DANCING!! Don't let him catch on that you've GOTTA DANCE if you're make on The Greeeaaat Whiiiiite Waaaaayyyyy . . . " "Stop singing!" "Oh, I'm sorry! You know me, I'm just a NATURAL CROONER!!" "Ssshhh!!" (Saleeby stands in the doorway, looking all around like he suspects walking in on something. Tod Barry leaps onstage and pretends to be in the middle of a standard "Stand Up" act.) "Yes, I'm a snide little monkey! Yes, I am!"(Saleeby goes upstairs to hang out on the sidewalk for a while. Frenzied Tap Dancing erupts! Saleeby sticks his head back in, the dancing stops, and Barry is back onstage) "My God, I am a hateful little shit! Yes, indeed!" (Saleeby slowly pulls his head back out, Tap Dancing resumes. Saleeby goes up on the sidewalk to smoke a cigarette. Jim Gaffigan walks up.) "Hi, John." "Hey, Jim, how come your shoes are making that noise?" "What noise?" "Kind of a 'Tap Tap Tap Tap'." "What?" "Yeah, while you were walking over here just now. Your shoes were going 'Tap Tap Tap-" "You're CRAZY!!" Gaffigan storms off and goes inside the club. Saleeby falls asleep next to the garbage cans.)