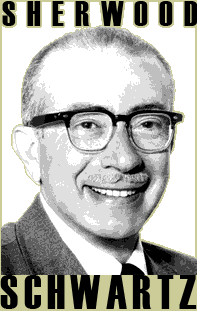 By John Saleeby

Years ago Acid Logic presented a Discussion between Myself and another Comedy Writer who was contributing a lot of Good Stuff to the Site (I like to imagine that he is now a Homeless Crackhead although he is probably making a Million Bucks a Week Producing some TV Show. I don't know, I quit watching Television because if I ever see that guy's name on the Credits of some Network Series I'll go crazy and become a Homeless Crackhead) in which we agreed that the Biggest Influences on our Comedy Writing were Woody Allen, Monty Python, and the National Lampoon. But those were Younger Days and we were both attempting to be "Hip", "With It", or as the Kids would say today, "Give me five dollars, bitch". So now that most of my Internal Organs have been removed so the Syrians can manufacture Chemical Weapons out of them and everyone I used to run around with has disappeared into The Retirement Home For Broken Down Old Open Mike Night Regulars, I can acknowledge my debt to the Craziest Of All Comedy Writers, Sherwood Schwartz.
Yeah, man, I was into Schwartz YEARS before I even heard about Woody, Monty, or the Poon! That's why there is nothing I enjoy more than putting aside Acid Logic or my "Crazy, Man, Crazy" Pod Cast to pretend that I am Sherwood Schwartz in the Nineteen Sixties and Write a Script for "Gilligan's Island" or "The Brady Bunch". I may have Written tons and tons of articles for Acid Logic in the past few years but for every Interesting Motherfuckers or Motherfucking Masterpiece I have Written I've probably got a dozen "Brady Bunch" or "Gilligan's Island" Scripts. Writing and Recording a new Episode of my Pod Cast is a lot of fun (And mentioning it in Acid Logic articles is a fuckin' BLAST!) but nothing equals the Creative satisfaction of plotting new Comic antics for Gilligan and the Skipper or those nutty Brady Kids. When I have completed yet another attempt by the Castaways to return to Civilization or a new plan by Greg Brady to Make It Big in the Pop Music Business I have become part of the Great Tradition of American Comedy the same way a Musician performing of the Classic Ragtime of Scott Joplin becomes part of the Great Tradition of American Music. Only I'm not a homo. Yes, it breaks my Heart that none of my Scripts will be brought to Life by Sherwood Schwartz's Stellar Acting Ensembles but the astute Reader or Listener will find the Voices and, yes, the Spirit of Bob Denver, Jim Backus, Robert Reed, Florence Henderson, etc. present in each and every one of my Acid Logic articles, "Crazy, Man, Crazy" Pod Casts (www.thedevilisasissy.com , by the way), and my Work for WLEZ FM (Catch me on line at www.weathervision.com !) just as you can hear Muddy Waters, Billie Holiday, and Louis Armstrong in every note of the new Justin Timberlake CD (Acid Logic Editor Wil Forbis - I've got a couple of CDs, too! I . . . Acid Logic Genius John Saleeby - Sorry, Wil, but plugging your own stuff in an article is sleazy!)
Sherwood Schwartz was Born on November 14, 1916 and Died on July 12, 2011. But it's what happened between those dates that makes them worth remembering. I'm sorry, a truck just ran over my head. Young Sherwood was working on a Master Of Science in Biology but his Brother Al was Writing for Bob Hope's Radio Show. A naturally funny guy, Sherwood began making up jokes with his Brother and eventually wound up working for Bob Hope, too. A third Schwartz Brother, Elroy, also became a Comedy Writer and did most of the Writing for Sherwood Schwartz's Masterpiece "Gilligan's Island". Funny Brothers are the Fast Track Way to Comedy Success! The Schwartz Brothers, the Zucker Brothers, the Farrally Brothers, the Sandler Brothers . . . Well, he's in so many Movies it seems like there's more than one Sandler . . . And here I am trying to make it with nothing but a Schoolteacher Sister. Allright! Another way to blame my problems on my lousy Family! At least I got something worthwhile out of this article. Thank You, Sherwood Schwartz!