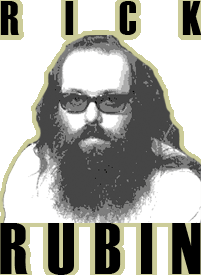 By John Saleeby

If you want an example of the Record Producer as a Musical Artist just listen to Rick Rubin's "Electric". Oh yeah, it's actually The Cult's "Electric" but I call it Rick Rubin's "Electric" cause I am entirely too cool to go around talking about a lame ass band like The Cult. What a bunch of losers! And yet "Electric" is a fantastic record. How is this possible? Just look at the cover - "Produced By Rick Rubin". That's what Esquire said just last year - "In four words we trust - Produced By Rick Rubin" Yeah, but who the fuck reads Esquire? That rag is only here to make Rolling Stone look "Hip". Or as the guys at Esquire would probably put it, "Phat". I've got a pretty good idea how much respect those Esquire fops had for Rick Rubin back in the Eighties when he was producing The Cult, The Beastie Boys, and Slayer - Ha! But now that he grinds out Cheeseburger Music like Tom Petty, Johnny Cash, and The Dixie Chicks all of a sudden he's as . . . uh . . . "Fly" as Jay Leno or John Grisham. I'd make a joke about when Esquire put Johnny Knoxville on the cover right before "The Dukes Of Hazzard" and that thing where he pretended to be retarded came out but I already beat a starving African child to death with my bare hands today and got a lot out of my system.
Unlike many Big Name Record Producers, Rick Rubin does not have a signature sound. Instead of a "Rick Rubin Sound" he prefers to accentuate his artist's own unique sound. So his A System Of A Down records sound like A System Of A Down, his Audioslave records sound like Audioslave, and his Linkin Park record sounds like shit. I don't know how far Phil Spector would have gotten with Darlene Love records that sounded like Darlene Love, but with Rubin this seems to have been the way to go (Although I'm still waiting for him to produce a Darlene Love record).
But don't even talk to me about A System Of A Down, Audioslave, Linkin Park, or those goofy Dixie Chicks - I remember twenty years ago when Rick Rubin was the Diabolical Mastermind behind Slayer, The Beastie Boys, and all those crazy Rap records like . . . Oh, yeah, The Beastie Boys were Rap but . . . We don't have to get into THAT, do we? Hell, it's 2006! We don't have to sit around having long serious discussions about "Black Music" and "White Music", do we? Cause if we do, you can forget about us sitting around having long serious discussions about Barak Obama being elected President in 2008. I mean, enough is enough. And leave Michael Richards alone! I probably would have been oblivious otherwise, but I was living in New York when Rick Rubin and Russell Simmons founded Def Jam Records and Rick Rubin records were all we heard about. Sometimes hearing about Rick Rubin records was more exciting than actually hearing Rick Rubin records, but that's buzz for you.
Teenage Rick Rubin began his career as the guitarist in Hose, one of those shabby "Indie" bands people are reputed to have liked in the early Eighties. On the Hard Core New York Punk scene Rick was notorious for being driven to and from gigs by his Mom and Dad. But after all the cruel wisecracks, thugs like Dee Dee Ramone and Johnny Thunders would lie in bed crying "I wish I had a Mom and Dad like that! BOO HOO HOO!!!" And now they're dead! Hose made records and toured but Rick was far too smart to be Thurston Moore when he grew up (And besides, Indie guys weren't allowed to have beards. Bill Berry's eyebrows were too Manly for a lot of those people) and he quit the band to form Def Jam.
Has any individual Record Producer had as big an impact on Pop Music as Rick Rubin in his Def Jam days? Without working with John Lennon and Paul McCartney, I mean (Just threw that in to shut up the Baby Boomers). At the height of his influence, Rick teamed up Run DMC and Aerosmith for his Brand New Super Duper version of "Walk This Way" to create Rap Rock. All we have to do now is find the guy who gave Freddie Mercury AIDS and we can have the first double electrocution execution since Julius and Ethel Rosenberg got the chair. Eight hundred thousand Radio Stations all over the planet playing the original "Toys In The Attic" version of "Walk This Way" nine or ten times an hour but the only time you hear that Run DMC-Aerosmith mess these days is when they show two or three seconds of the video on some VH1 "One Hundred Things Cool People Pretend To Give A Fuck About" show. But you Baby Boomers keep yer traps shut, anyway!
Best of all is Rubin's production of "Reign In Blood" by Slayer. Man, that album is so . . . WHAT!?! Forbis is writing a whole article about "Reign In Blood" for this issue? Well, SHIT! And now I'm stuck here writing about about all these silly Rap records! Well, if Forbis is so hip when it comes to Rick Rubin how come he didn't even know about "Electric" until I told him about it the other day? And then we were talking about Porn and he didn't even know about Lil' Coco! That guy is so square I bet he thinks "Reign In Blood" is some old Horror movie with Chistopher Lee. He's gonna order the CD from Amazon, put it on his DVD player, and throw an effeminate hissy fit. Somebody oughta kick his ass!
Then Rubin left Def Jam to go to Los Angeles and start Def American Records. And who can blame him? What could be more depressing than a bunch of black guys sitting around plotting to build a multi billion dollar business empire? Today Russell Simmons flops around looking so bored and blase' that when he dies his bones will be ground up into Extra Strength Tylenol. He had a really scary Asian Trophy Wife for a while but then she dumped his sulky ass. I guess she was tired of standing next to him with her feet a yard and a half apart so no one could tell how much taller she was than him. I'd put an entire continent between myself and something like that, too. It wasn't long until Rubin dropped the "Def" in his company's name leaving it "American Records". And when Barak Obama becomes President he'll drop the "American" in his company's name leaving it "Records". Meanwhile back in New York, not only is Def Jam still called "Def Jam", but they are still asking each other " . . . you know what I'm saying?", declaring "THAT'S what I'm talkin' 'bout!!", and announcing people's presence " . . . in da House!" Corny!
One of Rubin's most controversial decisions was signing Andrew "Dice" Clay to Def American. This sparked off protests from feminists, gays, and . . . What? Who was Andrew "Dice" Clay? Oh my Gawd, that Barak Obama bastid really is gonna be President!