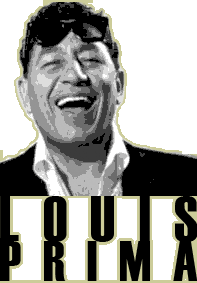 By John Saleeby
How did I manage to spend the first twenty years of my Life in New Orleans and not find out about Louis Prima until just a few months ago? Oh, yeah, yeah, yeah, I know all about Louis Armstrong, Professor Longhair, and Pork Chops Lester (Everybody in New Orleans knows about Pork Chops Lester but they never talk about him to anybody from out of town because Pork Chops Lester is a pain in the ass by even New Orleans standards) but I didn't know anything about Louis Prima. Yeah, I knew that there was some guy out there named Louis Prima but that was probably just by Osmosis. Hey, at least I didn't say "Zeitgeist"! Nobody from New Orleans ever says "Zeitgeist" - Except for Pork Chops Lester. What a pain in the ass!
I'd be embarassed about not knowing about Louis Prima if everybody else in New Orleans was into him the whole time I was going nutzo over Ace Frehley and Pork Chop Danny (Pork Chop Lester's dumb ass cousin in St. Louis) but I doubt if any of those knuckleheads in New Orleans knew anything about Louis Prima either.
If anybody anywhere at all knows anything bout Louis Prima these days it's only because of David Lee Roth's big hit cover of Louis Prima's "Just A Gigolo" way back in the Eighties. Jesus, today is 2013! I should probably write an article explaining David Lee Roth to you dumb kids. Didn't I write an article about David Lee Roth back in the days when we were mimeographing Acid Logic in the back of a coffee house in San Francisco? Hey, Wil Forbis, Acid Logic Editor - Hook me and David Lee Roth up with one of them "lunks" or whatever the skateboarding meth monkeys of today call em. Did we ever do a Louis Prima article back then? I don't remember, do a lunk up to that and then I won't have to write any more of this foolishness. And if we didn't do a Louis Prima article just do a lunk up to the Louis Prima article in Wikipedia. I want to take a nap. I can't help it, I'm from New Orleans!
New Orleans doesn't give Louis Prima the Local Hero Treatment cause he spent most of his career performing in Big Media Cities like New York, Los Angeles, Chicago, and Las Vegas thus rubbing the harsh reality of what a B List Town New Orleans always has been and always will be in it's face like an Acid Logic article about Louis Prima written by a guy who was born in New Orleans and doesn't care about it any more I care about the goddam dump I'm stuck in right now. Professor Longhair spent practically all of his career in New Orleans and right in the middle of that brilliant career he had to work as a Janitor. But in New Orleans you can pass that off as "Cool". Everybody knows that Alex Chilton went to New Orleans to work as a Dish Washer, if he had gone to Kansas City to take such a gig original vinyl copies of Big Star albums wouldn't be worth ten cents. Hell, I'm working as a Janitor right now but I'll be damned if I'll clean up after anybody in New Orleans.
The most unmistakably New Orleans thing about Louis Prima is that he was completely out of his mind. Everybody from New Orleans is crazy. Was Louis Armstrong crazy? Sure he was, we're just not allowed to kid around about it for the same reason we're not allowed to kid around about Barack Obama being an asshole. See? If that had turned out to be a Louis Armstrong joke somebody would have killed me by now, but I turned it into a Barack Obama joke so I'll wind up in a concentration camp in a few years. Which leaves me plenty of time to sit around listening to Louis Prima! But yeah, Louis Prima was crazy. As a performer he was something of a big goofy clown and if that sounds negative today it is because our ideas about Entertainment have been corrupted by the "Cool" thing. You know, the "Cool" thing. Whose idea was that shit? Marlon Brando? So now we're all supposed to go around acting like Lou Reed and guys who whoop it up like Louis Prima wind up like John Belushi or Chris Farley. Louis Prima eventually wound up like Belushi and Farley but he was a lot older when it all finally caught up with him so it was no big deal. No, Louis Prima was not a Laid Back Cool Jazz Cat in a Beret and a Turtleneck. If Louis Prima ever wore a beret it had a little crank on the side that you turned until a Weasel popped out of the top and shoved a Fire Cracker up your butt. Louis Prima gets so wound up on his records I bet at the end of every take he swelled up so his shirt got torn up, turned green, and started smashing everything up. That's when they knew that they had a Hit. If he was still standing there looking like Bill Bixby they'd yell at him to get it together and try it again.
Another important thing about Louis Prima is that he was Italian. Louis Prima was the very first Italian-American Music Star! If it had never been for him there never would have been no Frank Sinatra, no Dean Martin, no Sammy Davis Junior, no . . . Well, I got a little carried away there (My sleeve got stuck in the door of my Mom's car and I got carried eleven miles down the Highway. My shoulder seperated from my arm right in front of the Hospital - LUCKY!) . . . If Louis Prima had never made the World ready for "Goodfellas" Frank Sinatra and Dean Martin would still have been Big Stars, but they would have had to paint their faces black and sing "Mammie" so everybody would have thought they were Jewish. Boy, is this offensive, let's work in a Danny Kaye joke to offend the Gayes. New Orleans is a very Italian kind of town and why more has not been made of it is so mysterious I suspect all those Italians were sent to New Orleans from other cities on some kind of Witness Protection Program. Did you know that all those people who were stuck in the Superdome after Hurricane Katrina were Italians? Yeah, they are just pretending to be black to stay out of trouble. If they go around telling funny stories about how hilarious it was inside the Superdome after Hurrican Katrina all the guys in New York, Chicago, and Las Vegas who are out to get them will find them and kill them so they have to act all sad and miserable so we will feel sorry for them. I have no evidence to back that up but sometimes you've just got to follow your Heart, ya know?
Prima worked with so many different Musicians and Singers he was probably a member of the Eagles for a while there. His most well known collaborator was the Singer Kelly Neely to whom he was Married and had a couple of crazy little kids with. But then Kelly dumped him and he went out and found a new Singer that he got Married to SO THERE, KELLY NEELY!!! But that Singer didn't catch on as well as Kelly and if Louis had kids with her they were probably a bunch of Wally and Beaver Cleaver Squares who didn't "Make The Scene" until the Seventies when Peter Frampton and Fleetwood Mac came along - BUMMER!