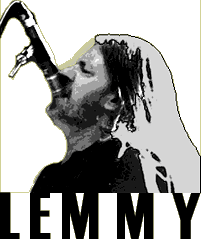 By John Saleeby

Regular readers of Interesting Motherfuckers - Jeff, Didi, Cousin Pete - know that, being something of a wise ass, I enjoy taking the occasional cheap shot at the men and women we here at Acid Logic deem worthy of Interesting Motherfuckerdom. Sometimes I go overboard with the funny stuff, like in my Interesting Motherfuckers column about Willie Nelson which was mostly about how every time I see him wearing his hair in braids I get really hot and wish he'd put on a Catholic Schoolgirl uniform. But writing an Interesting Motherfuckers about Lemmy Kilmister presents a sudden challenge. To be honest, I am frightened to kid around about this man because I have no doubt that if I do just a little bit too much Lemmy will track me down and kick my ass. Don't get me wrong, I am no punk ass who wants to direct Tom Cruise movies when he grows up - Getting on the wrong side of your typical run of the mill rock star is the last thing I'm afraid of. Get a loada this - Kiss my ass, Bruce Springsteen! Blow me, Red Hot Chili Peppers! Screw you, R.E.M.! Hey, U2 - Go fuck a cow! But Lemmy? Uh, can I get you a beer, sir? Maybe a selection from our desert menu? Do you need someone to empty out the septic tank of your tour bus? Just look at this guy! Imagine this - You're sitting in a Waffle House at quarter to four in the morning, drinking coffee, reading "Kicking Saleeby's Sorry Ass" by Dave Barry, when you hear a motorcycle pull into the parking lot, and then the biggest, ugliest, white trash, biker, tattooed speed freak, stomps in and asks for whatever Lemmy orders when he goes into a Waffle House at quarter to four in the morning. Would somebody holler "GET THAT DADBURN FREAK DA HELL OUTTA HERE!!!" right before we whip out our crucifixes and beat him to death in the parking lot? Hell, no - That's what we do when guys who look like Michael Stipe or Moby come into the Waffle House. When dudes that look like Lemmy come in you know that the next shift is coming in and it's time for the night crew to go home. Maybe I should have set that story in one of them sooshee bars you big city folks go to.
We've had plenty of scary rock stars - Alice Cooper, Ozzy, Kiss, and Tina Turner - but Lemmy is no nice Jewish boy from Brooklyn who had to dress up like a monster in a Japanese science fiction movie to work up enough nerve to go onstage and play music to people. Lemmy truly is exactly what Lemmy appears to be. All these years he's been running all over the place and not once has he ever gone all soft on us like Alice Cooper and turned out to be a nice guy who loves to play golf and take his kids to church. Screw that! Not that there's anything wrong with nice guys who love to play golf and take their kids to church - Hell, they're The Salt O' The Earth! - but who wants to listen to 'em play music? How many people go to Branson, Missouri every year for Spring Break?
Like most Bad Guys, Lemmy was reared for the Straight Life and went astray - "A good boy gone wrong!!" Lemmy's Father was a Vicar and if that don't explain everything I guess I have to tell you that "Vicar" is the crazy British word for "Priest". Hhhhhmmmm, no need to ask "What are you rebelling against?" in THIS version of "The Wild One" - Eh, Amateur Freudians? My Dad took all the fun outta my teen rebellion with "Will you cut that out? You're makin' me feel like Jim Backus in 'Rebel Without A Cause'! It's totally uncool, man! Totally uncool!" and then my Mom piped in with "Who played Sal Mineo's dad in that movie? That's who ya oughta feel like with Twinkletoes here yellin' at ya!" and I signed up for ROTC.
The Sixties Rock Boom came along just in time to funnel Lemmy's Teen Spirit in a positive direction and he was soon performing in a series of bands to such widespread acclaim that he became a Roadie. But sometimes even manual labor can pay off in the right place at the right time. Lemmy wasn't driving trucks and carrying equipment for just any ol' pop group, he was a roadie for the Peenemunde, the Los Alamos, the Frankenstein Castle of Psychedelic Rock Scene - The Jimi Hendrix Experience! This is significant in more aspects than we have time and space to cover, so lets just order pizza and rent a video, okay? How about "Dracula 2000" - Jerry Ryan's in it! Naw, I'm just messin' with ya - See, up until the time The Jimi Hendrix Experience came along rock and roll bands didn't have those huge Marshall Amps that made loud ass Seventies Rock like Led Zeppelin, Black Sabbath, Aerosmith, etc. possible. That's why when The Beatles first came to America no one could hear anything at their concerts but thousands of little girls screaming. Instead of Marshall amps (Invented by Gary Marshall who later became a comedy writer, created "Happy Days", directed "Pretty Woman", and I'll keep going with this joke until you ask me to stop - Okay.) , rock bands like The Beatles, The Beach Boys, and The Bean Counters were stuck with these tiny little thingamajigs the band members assembled out of balsa wood, tissue paper, and rubber bands while sitting backstage before the show using model airplane glue, the unfortunate high leading the naive young fools to experiment with stronger drugs like marijuana, acid, pot, LSD, weed, and the stuff that made Art Linkletter's daughter think she could fly but only made me think that Blondie song "I Know But I Don't Know" was really great. Man, those little piddly widdly speakers had rock music so screwed up you had to really know how to play to put on a decent concert! But just to prove that there is a God and he wants you to walk around going "Huh? What did you say? Huh? Wha?" for the rest of your life, the Marshall Amp came along at the same time some music biz Fagin lured young Jimi Hendrix away from the funky side of the sea to the druggy mess of Psychedelic London. What can I say about The Jimi Hendrix Experience that hasn't been said before? Oh, I know - "I'm tired of it.", how 'bout that? It says something about Heavy Metal music that after all these years the guy who unloaded the Experience's amps, hooked em up, and made sure everything sounded just right every night is the one who has a great band still making records and playing all over the world while the guys who were in the band are probably playing for Macy Gray or something.
Having earned his Certificate In Metal Machine Music Technology, Lemmy returned to the stage with renewed confidence, taking a job playing bass in a silly psychedelic band called Hawkwind. I remember when I was a little Freshman shit at LSU in '79 I would frequently see HAWKWIND carved into the top of the desk I'd just sat down in and immediately leap up before I got stinky hippie freak germs on my khakis. Hawkwind was the top band with all the hairy trippy people at LSU while all the really cool people like me and two other guys liked The Buzzcocks. Fortunately for Lemmy he was no longer involved in that sleazy outfit by then, having been fired in 1975 when he was busted for possession of speed in Canada. But did Lemmy care? No! He got right to work starting his own band called Bastard. Now that is a cool name for a band but it was still only 1975 so Lemmy - Who was a Dirty Old Bastard before Bastard was cool - went with Motorhead, American doper slang for "Speed Freak". Hey! I was an American doper for years - How come I never knew Motorhead was our proud nation's slang for "Speed Freak"? I dunno, I was never a Pills Person - I took a couple those Black Beauty things one night in '81 and it felt like my brain was trying to punch it's way out of the top of my skull and make a getaway before I could hold it responsible for that whole "Become A Comedy Writer" idea. Good thing I was wearing my Apache Feathered Indian Chief Hat!
And, Oh Yeah, Motorhead totally kicks ass, but what all the kids really wanna know is . . . . What's Lemmy REALLY Like?