"Magnolia" (1999), Anderson's next epic, was a bit muddier and more confusing.  Clocking in at three and a half hours, it wasn't sure what it wanted to be or how many messages it wished to juggle.  Keeping company with heavy hitters and industry pretty boys alike, Hoffman held his own.  (With a cast like Jason Robards, Tom Cruise and William H. Macy, that's high praise.)  Between raining frogs, Exodus scripture, bedside vigils and deathbed scenarios, Hoffman popped in and out of the scenery like parsley as Robard's hospice aide.  (This wasn't the last time Hoffman wore hospital whites as he shared screen time with Robin Williams in the shitty Oscar vehicle known as "Patch Adams."  Between shying away from research and my disgust for the two or three years that Robin Williams took every script that showed up on his doorstep, I refused to watch it again for the sake of this critique.)  
Continuing on with Anderson's movies, Hoffman had a turn as a true villain in the short and tremendously well done "Punch Drunk Love" (2002).  In a breakout role that shocked anyone who saw the movie, Adam Sandler plays an emotional cripple who finds his soul mate.  Hoffman plays Dean Trumbell, a rogue who runs a phone sex scam out of his mattress store.  It's a powerful, twisted movie, and repeated viewings are liable to give one a mild crush for Emily Watson, who's too mousy for words.  But I digress.
Hoffman and Watson shared credits on another film most people have heard of by the name of "Red Dragon" (2002), the last (although chronologically the first) Hannibal Lecter film directed by Brett Rhatner, who let loose "Rush Hour" and other ambulatory pieces of shit into the world.  Surprisingly, it's the best installment of the three movies though Edward Norton is painfully miscast as a veteran federal agent because he still looks like he's 22 years old.  Hoffman plays a seedy reporter for a disreputable tabloid who gets in deeper than he cares to with the Lecter legacy when sociopath Francis Dolarhyde (Ralph Feinees) kidnaps, tortures, and generally scares the bejesus out of him.  
A few years prior to "Hannibal" Hoffman played Lester Bangs, in Cameron Crowe's "Almost Famous" (2000), a movie that made the critics collectively wet their pants hot on the heels of "Jerry Maguire."  It's a tremendously personal movie for Crowe, who spent most of the '80s writing for Rolling Stone. He chronicles his childhood ascension into the ranks of rock criticism, as well as his first foray into the world of sex, drugs, and rock and roll.  Hoffman plays the father figure he never had, a seasoned journalist for Creem magazine who schools him on the perils and pitfalls of music journalism.  As a writer, the film is like rock candy for the eyes.
In Anthony Minghella's "Talented Mr.Ripley" (1999), Hoffman's role is short and sweet as Dickie Greenleaf's over-privilaged eurotrash pal Freddie Miles. I'd be surprised, if he's in the movie more than fifteen minutes, but his character is one of the catalysts that sets Matt Damon's Tom Ripley off into a psychotic rage.  Hoffman's performance is charming, understated and pompous in equal but subtle turns.
Hoffman's twisted role as Allen in the brilliantly disturbing "Happiness" (1998) sticks with the viewer. Todd Solondz's holy trinity of dysfunction following the lives of three sisters in New Jersey and everyone they affect is a rollercoaster of neuroses with Hoffman at the heart of it all.  He plays a dumpy, socially retarded single man with a desire for rough sex and no means to find it, obsessed with a neighbor at his apartment complex (Lara Flynn Boyle).  At the onset of the film, he makes dirty phone calls to the object of his affection.  Surprisingly, the girl ends up inviting him over to live out his fantasies.  Once they meet up, it's obvious that nothing will come of it, and Hoffman, in the end, winds up with a wildebeest of a woman who thinks the world of him, closing one more triangle of need and desperation.
The bandwagon was a bit slow on the uptake when it came to the Coen brothers' masterful "Big Lebowski" (1998), the first film they'd released hot on the heels of the Oscar-dandy known as "Fargo" (1997).  Since it's video release, Big Lebowski has turned into something of a cult phenomenon, much like all of the Coen brothers' movies.  More caricature than character, Hoffman's portrayal of the Big Lebowski's trusty assistant Brandt borrowed liberally from the Simpson's Mr.Smithers, if you ask me.  Stodgy, anal retentive and loyal to a fault, he carries out his master's dirty work efficiently in this reworking of the Dashiell Hammet formula through the guise of a shiftless pothead played to perfection by Jeff Bridges. 
There are a handful of other film credits Hoffman has appeared in, but these are the ones that spring to mind and leave a lasting impression.  He was also comical in the massive ensemble effort "State and Main" (2000), one of writer/director/Hollywood legend David Mamet's recent attempts behind the camera.  It's a parable about the corruption and depravity of tinseltown, and a road that's been traveled a million times.  In addition to this, it's one of four recent films where he's tried desperately to convince the world that his wife, Rebecca Pidgeon, not only knows how to act, but does a good job of it at the same time.  But that's neither here nor there. 
What's next on the slate for Hoffman?  A biopic about Truman Capote, the author who milked a twenty year career out of writing "In Cold Blood."  No other writer in recent history has ridden a publicity junket for so long.  Between Capote's flamboyant homosexuality and his lifelong friendship to Andy Warhol and associated   New York bohemians, it should make for an interesting picture. 
Character actors seem to be a dying breed.  It's a testament to Philip Seymour Hoffman's versatility that he's held so many powerful roles and worked with the best writers and directors in modern cinema.  Rather than settling into a stereotype or a character mold like the Pacinos, Deniros, and Robin Williamses of the world, he's shrugged off each identity like a second skin and moved on to the next film.  If you list the best bit actors in the field, you can tally them all on one hand.  Jonathan Pryce, Tim Curry, Don Cheadle, Christopher Lee, and Philip Seymour Hoffman.  For a stocky redhead with a devious looking face, he gets around.
Meet some other Interesting Motherfuckers:
Ray Walston by John Saleeby
From My Favorite Martian to Mr. Hand.
Mitch Hedberg by John Saleeby
The last of the comedy greats!
Al Jafee by Wil Forbis
Mad Magazine's cartoon master.
GG Allin by Wil Forbis
Even punks loathed the performer who pushed past the bouderies.
David Allan Coe by Wil Forbis
Country's obscene outlaw walks the line.
Bernie Casey by John Saleeby
The blaxploitation star who rose from the ghetto of professional football.
Bret Easton Ellis by Tom Waters
Peruse the critical overview and interview with the fiction superstar.
Phil Lynott by Wil Forbis
Thin Lizzy's frontman rose from the streets of Ireland to the heights of rock stardom and then descended into the pit of drug abuse.
Louis CK by Sean C Tarry
Marvel at this stand up's ability to phrase the opposite of every song.
Sho Kosugi by Wil Forbis
Fear the power of the Ninja! Fear it, Bitch!
Bill Hicks by Cody Wayne
The mind expanding comedian gets his due.
Warren Zevon by Xander Horlyk
A literary look at "a moralist in cynic's clothing."
Pam Grier by John Saleeby
Sweet Christmas! It's the queen of blaxploitation, Foxy Brown herself!
Jack Webb by John Saleeby
When he created the elite police unit of "Dragnet," Jack Webb laid the first blow against the scourge of America: Hippies!
Doris Wishman by Wil Forbis
The prolific adult film maker, whose work includes the classic Chesty Morgan movies, is probed and prodded.
Dave Thomas by John Saleeby
Wendy's Dave Thomas was all about Biggie Fries, Frosties and love.
Spike Milligan by John Saleeby
Read up on the life of the British comedy scribe.
Toshiro Mifune by Wil Forbis
The Japanese actor who slashed his way through a thousand samurai movies.
Nina Hagen by Wil Forbis
The Wagnerian Banshee who created the blueprint for punk/funk/opera.
Bob and Tommy Stinson by John Saleeby
Get to know the real talents of eighties punk sensations, The Replacements.
Tom Savini by John Saleeby
The king of latex gore.
And there's even more on our main page!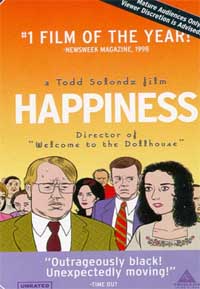 Todd Solondz's 'Happiness' featured an esemble of loveable freaks including Hoffman as a sexual degenerate.
Additional Hoffman Material:
Daryn's PSH HOffman page
View Daryn's tribute to the "greatest actor on earth."
A GeoCities Fan Page
They say they "wouldn't kick him out of bed for eating crackers."
Love Liza
The official site for the indie Hoffman film penned by Philip's brother, Gordy.