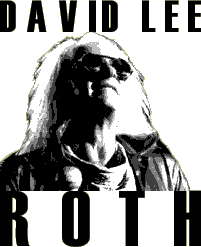 "Money can't buy you happiness, but it can buy you a yacht big enough to pull up right alongside it."

By John Saleeby

About twenty years ago David Lee Roth, Rabelasian Man Of Antics And Adventure, navigated a perilous expedition into the Darkest, Most Dangerous Wilds Of The Amazon at the end of which Captain Roth lead his weary party into a village of Savage Stone Age Charlies staring in shock and awe at The Very First White Man They Had Ever Beheld. But, with no guitar players around, Dave had come in Peace! A friendly feast was thrown and, as night fell and flames lit the glittering sky, Dave put down his cup, called for his Prop Case, and stood before his Hosts to provide the Evening's Entertainment - Dave sang, danced, juggled, leapt into the air, made funny noises with his armpit, made faces, wiggled his ears, turned his eyelids inside out, produced pennies from behind people's ears (And they had never seen pennies before!), played bass solos on the veins in his neck, did bird calls, pulled rabbits out of hats, breathed fire, lit farts, recited dialogue from the hit ABC sit com "Bosom Buddies", and - for all I know - turned water into wine with bottles made out of fish and corks made out of tadpoles. And as Our Hero basked in his well-earned applause there was no doubt in his audience's heart that any civilization that could produce as happy a specimen as David Lee Roth was one truly worth belonging to. And today you will find every one of those fine Ladies And Gentlemen taking orders over the phone at the Girls Gone Wild corporate headquarters right here in the USA. Well done!
Dear Friends, How can you take gelatinous invertebrates like Moby and Pete Townsend as seriously as Jann Wenner so desperately wants you to once you've spent a little time whooping it up in the Wonderful Wacky World Of David Lee Roth? This life really is a joke, you know, and if you think that's a bad thing - The Jokes on YOU! If it's not about Fun Fun Fun, than what is it? Nothing I care about. We've already got TV and newspapers if you want to get bummed out . . . Who the hell needs Eddie Vedder? That guy's such a dookie head he wears a colostomy bag for a shower cap!
"How many times have you said to yourself 'Pack up and go, I've been here too long'?
I bet if you ask them our heroes would say 'Hey! We're already gone!'
I know, somehow I know"
Like other targets of critical scorn, Dave had a comfortable suburban childhood. (His parents never even split up, no wonder he's such a mess!) A regular feature of life in the Roth household was "The Monkey Hour." Right after dinner all the sugar and caffeine in Young Dave's system would kick in and family members and neighbors would gather to look on as the Boy Prodigy sang, danced, juggled, and performed the same stunts that would one day make him The Most Popular White Man In The Heart O' Darkness. "The Monkey Hour" was a family ritual in millions of American homes in those Happy Days before Cable TV and The Internet - back when people had to resort to their own Loved Ones for Home Entertainment - but the Roth family was one of the few to get into it so much that Dave was encouraged to make an actual career out of it.
A formative experience of Dave's youth was hanging around The Cafe Wha?, the Greenwich Village nightspot managed by his Uncle Manny. Manny was still in The Business years later when I was a comic trying to get bookings and one day he actually looked me Right In The Eye and said "I promise!" - OUCH! Anyway, Dave used to hang around in the Men's Room watching David Frye practice impressions of Richard Nixon and George Wallace in the mirrors above the sinks. Close your eyes and think about that for a minute before you resume reading. A coupla years after my encounter with Manny,  Dave was busted for buying a dime bag on the very same block as The Cafe Wha?. Right around the same time I spotted Ol' Manny struggling down the sidewalk with three and a half arm's worth of groceries and I still feel like an asshole for not giving the old guy a hand.
By the end of High School Dave had a band called The Red Ball Jets (Headlining For All Eternity In The Lowest Circle Of Hell Into Which All Contributors To Spin, Rolling Stone, And The New York Times Shall Be Casteth) and, rather than tuition, Dave's Dad - A SURGEON! - bought His Son a pile of sound equipment, a guitar player, and a drummer. A little later somebody looked under a bridge, found a bass player, and Everything fell into Place - Van Halen!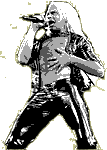 Would it be offensive if I go out of my way to point out that David Lee Roth is Jewish? I only emphasize that because the only other Jewish rock stars I can think of are Gene Simmons and Paul Stanley from Kiss. Is Lou Reed Jewish? I'd give your Friendly Neighborhood Orthodox Rabbi The Final Word On That.  Bob Dylan? That's a completely Brand New Religion. Wait until after he dies and if Mel Gibson makes a movie about it I'll get back to you - I promise! Simmons and Stanley are even weirder than Dave - Simmons immigrated to the US from Israel with his Holocaust Survivor Mom and Stanley graduated from the New York Performing Arts school they based "Fame!" on - It's a miracle such a combination would result in anything as tasteful as Kiss. Dave, however, is the ONLY Rock And Roll Star In The Vaudeville Song And Dance Man Tradition Of Al Jolson, Eddie Cantor, And Groucho Marx. Important? Why else would it have been buried under three and a half tons of the same stuff they dumped on top of the Poor Oppressed Black Man's Influence On Rock And Roll Music? One of the few rock stars too intelligent to fall for the notion that nothing of value was created in this nation before the late Fifties, Dave brought a whole bag of old tricks to Rock And Roll and helped Van Halen achieve success that never would have been possible with some doofus whose entire musical education began with The Beatles and ended with Wings.  Just listen to Dave singing "Broken down and dirty, dressed in rags, one day my Mama told me 'Boy, you pack your bags" and it's not at all difficult to imagine him onstage at The Palace riding a unicycle on the high wire while juggling puppies. With "The Cradle Will Rock" Dave offers nothing less than a Heavy Metal rewrite of Jolsons's "The Jazz Singer" with the Heartbroken Father Beseeching  His Show Biz Crazed Son "YOU COULDA FAKED IT,BOY! FAKED IT, BOY!!" and culminating in The Funniest Moment In Rock since The New York Dolls found themselves cooking in a Jungle Cannibal Stewpot - "Have You Seen Junior's GRADES!?!" Extraordinary!
I can't begin to remember what the guitar solos on these songs sound like.  I'm tired of guitar players, it's the Twenty First Century and we're sick of those dullards getting all the attention. I remember a guy from Long Island talking about what a drag it was growing up in a town where all the cute girls had already been pillaged by Joe Perry. I want a better future than that for the Young People Of America and with your help this November, I will make that Dream come true.
But just imagine what it was like to be a Heavy Metal Star with a Little Old Jewish Doctor for a Dad - "Have you seen Junior's REVIEWS!?!"
The phone rings in Dave's motel room.
"Helloo?"
"Dave! I was just reading the reviews of '1984' in the LA Times . . . "
"Aw, Dad!"
"Would it kill you to write something about apartheid or unemployed Vietnam war veterans?"
"I'll talk to ya later, Pop! I got an interview with 'Creem'."
"No wonder Quincy Jones didn't ask you to sing on 'We Are The World'! YOU COULDA FAKED IT, BOY! FAKED IT, BOY!"
"Ahhh . . ."