all images copyright © Wayno.
By Wil Forbis
April 16th, 2003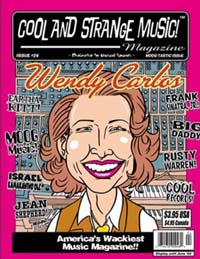 You've seen the artwork of Wayno before, you know you have. But where? Perhaps it was one of the many covers he's done for the ecclectic, Cool and Strange Music Magazine. Maybe you're familiar with the inummerable caricatures he's provided to Rhino Records. You may have picked up his early 90's comic book, Beer Nutz. Or you may own one of the several album covers he's designed for groups like the Karl Hendricks Trio.
If it wasn't any of those places, then, I dunno... maybe you haven't seen the work of Wayno. But it's high time you started. (Perhaps by perusing his web site?) And once your thirst is queched you shall surely want to know more about the man behind the pen. So read on to see Wayno articulate his thoughts on the realities of cartooning, the success of fellow alt-comic vet Dan Clowes' "Ghost World" and the threat of Disneyfication.
Wil: First, let's get this old chestnut out of the way: Who are you influenced by? I get the impression you've got roots in the same quagmire of 1950's commercial design and Harvey Comics that inspired a lot of the 90's alt-comic book artists like Dan Clowes.
Wayno: My strongest influence, which may not be apparent to anyone but myself, is Virgil Partch (1916 - 1984). In his prime, he was the king of the fluid brush stroke. When I look at his best cartoons I can almost smell cigar smoke and liquor. His work had a manic undercurrent of sexuality and hysteria that was just amazing.
He had very disciplined work habits, which I admire. I'm the type who needs deadlines in order to get things finished. Of course, Partch usually planned to get all of his work out of the way before noon so he could spend the rest of the day drinking with his cronies, but he was always months ahead of schedule with his comics. Partch was my idea of a cartoonist in every way. His lines were economical and there were no unnecessary details to distract attention from the gag. He even looked like a cartoon, with thick horn-rimmed glasses and big goofy teeth.
Of course I absorbed Mad Magazine, Warner Brothers cartoons, and all of the 60s underground influences -- Crumb, Bill Griffith, the whole "Zap" crowd. The underground guy who really knocked me out was Willy Murphy (1937-1976), whose work looked a lot like some of those insane Japanese boys' comics of recent years. Murphy is sort of a forgotten figure, but he was a very good writer, and his art was funny as hell; full of big droopy noses, giant feet and wavy stink lines.
Any advertising art from the early part of the century gets me going too. Even the crappiest little ads were beautifully drawn. I especially love early ten-inch record sleeves for the simple design and economical use of a limited number of colors. Jim Flora more or less invented the album cover, and he's a constant source of inspiration.
Wil: What's the strangest object you've ever drawn on? Cars? Toasters? Snakes?
Wayno: A blank master for a twelve-inch record album titled "Vinyl Gang Bang." Sympathy For The Record Industry had a bunch of cartoonists etch drawings into a master disc that was then pressed as a non-musical record. There were no grooves on either side, just etched artwork. It was a very limited edition, and is a real rarity, even for SFRT.
Wil: Have you had any memorable encounters with the people you've caricatured?
Wayno: Only indirectly. A few years ago I drew a caricature of Jimi Hendrix for Guitar World magazine and later was contacted through the editor by Hendrix's father. He asked to buy the original art, so I guess it's somewhere in the Hendrix family archives now.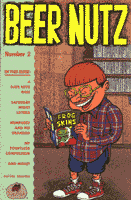 Wil: Do you think you'll ever return to the world of comic publications like your "Beer Nutz" project?
Wayno: Anything's possible, but I don't have any comic books planned right now. I moved into illustration partly because I was tired of the treatment artists receive within the comics publishing world. I never dealt with a publisher who treated artists professionally, with the exception of the short-lived Tundra publishing -- and even that ended badly.
My experience has been that comics publishers are at least partly responsible for perpetuating that "comics get no respect" rap because of their depressing, defeatist attitudes.
I have written and drawn some one- and two-page comics for Nickelodeon Magazine, and do gags for various magazines, so I'm not completely out of that world, but it's closer to a divorce than a separation.
Wil: What kind of music do you listen to while you work? What gets Wayno in the mood?
Wayno: I'm the type of listener who becomes immersed in something until I nearly get sick of it. I have music playing all the time when I draw, and it's all over the map. I'm big on jazz of all eras, with a special place in my heart for greasy soul jazz like Lou Donaldson, Grant Green and Jimmy Smith. I've been listening to compilations of obscure 1970s deep funk and soul recently, I enjoy some lightweight Japanese pop (Puffy Amiyumi, Kahimi Karie), Frank Sinatra, They Might Be Giants, vocalists like Rosemary Clooney and Betty Hutton, the obligatory space age bachelor pad stuff, old timey Hawaiian music, Bjork, you name it.
Some of those "mash-up" bootlegs, where DJs mix two or three unrelated songs are some of the most interesting and exciting things I've heard in recent years. Freelance Hellraiser's "Smells Like Booty," which grafts Destiny's Child onto Nirvana, and the Evolution Control Committee's unholy marriage of Chuck D and the Tijuana Brass are masterpieces of this phenomenon.
Oh yeah, and I'm a sucker for female vocalists in almost any non-mainstream genre, but particularly 60s French pop (sometimes called "yeh yeh" music). I've been obsessively playing a collection by a singer who went by the name Pussycat, that's just wonderful.
Once or twice a year I go through a big Captain Beefheart phase. Good old Don, he's a killer.
This week my CD player's been spinning the Soul Bossa Trio (a Japanese jazzy lounge group) and a lot of Italian film scores by Ennio Morricone and Piero Piccioni.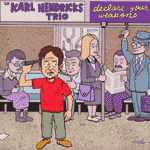 Wil: I've heard that Derek Riggs, the guy who used to draw "Eddie" for all the Iron Maiden covers, wasn't a big metal fan and even did some of the artwork while listening to the Spice Girls. Were you actually a fan of Karl Hendricks?
Wayno: I'm a fan of both Karl Hendricks and the Spice Girls (before they all became anorexic). Karl's music has a humorous side that I think is lost on a lot of listeners. His lyrics are so extremely sad and depressing that they have to be written partly as a joke. Otherwise, he would probably have killed himself by now.
Wil: Who are you into in the modern comic scene?
Wayno: I enjoy the work of a lot of my pals, but one by one they're all drifting away from comics too: Mark Martin, Roy Tompkins, Mack White, Mary Fleener, Dennis Worden, JR Williams. In the early 1990s, we were all a very tight group, and every one of those artists inspired me a lot.
Sam Henderson is consistently funny; I always enjoy his stuff. Kaz's Underworld is brilliant. Matt Groening and Lynda Barry are still pretty dependable too. I love Danny Shanahan's New Yorker gags.
I read a few syndicated comic strips every single day: Patrick McConnell's "Mutts," "Zippy" and "The Boondocks."
I mentioned Japanese comics earlier. There are some very funny, over-the-top underground comics done in Japan, but they're hard to find here. Most importers gravitate toward either science fiction and robots or that weird fetishistic porn, all of which is geared toward your stereotypical comic shop guy. I've got a book by two artists who call themselves "Tokyo Funky Studio" that is scatological, surreal, primitive and just plain hilarious. If I could read Japanese, I assume it would be even wilder, but even with the language barrier it's incredibly funny. I'd love to see more of their work, but searching for it is difficult.
Wil: Do you ever get bummed out by the lack of respect for cartooning as an art form? Everyone goes on and on about Da Vinci or Van Gogh but you never hear a shout out for Chester Gould or Jack Kirby! (At least in the mainstream art world.)
Wayno: Although I'd welcome higher fees for my work, that attitude doesn't bum me out. As I said before, it's fed a lot by the comics industry itself. Screw the mainstream art world -- if they truly recognized genius, I never could have afforded to buy the one Virgil Partch original I own.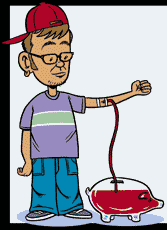 Wil: Marvel or DC?
Wayno: Today, neither one. In my pre-teen years, I was a Marvel snob, because I thought they were more "sophisticated" in some way. I got sucked into Jim Steranko's pretentious "Nick Fury" series with all of the bogus psychedelia. Later on I decided that DC's Bizarro World was a much better place.
Wil: How did the Cool and Strange connection occur?
Wayno: I really don't remember how Dana (Countryman, the editor and publisher) found me, but he contacted me before publishing his first issue. That was before I had a web presence, but he and I travel in overlapping circles and I'm sure he got in touch with me through WFMU or somebody in the Seattle comics scene.
At times, certain aspects of the writing in C&SM have made me cringe, but overall it's been one of the best cooperative associations I've experienced. Dana always approached it as a business, stuck to his deadlines, and issued it faithfully each quarter for seven years.
I'd like to mention also that Dana never once asked me to do artwork for free in exchange for all of the exposure I'd get, which is all too common a tactic with independent publications and record labels.
Wil: What have you seen to be the reaction from the modern alt-comics scene to Dan Clowes "Ghost World" success? Celebration, or calls of "sell out"?
Wayno: I've seen nothing but support and excitement. When I saw the movie, I felt proud of Dan and very happy for him. I can't imagine how the film could be any truer to his vision, even if it had been meticulously animated in his style. Anyone who cries "sell out" in this case is just chewing sour grapes. Whether you like it or not (and I liked it very much), there's no denying Clowes and Zwigoff stuck to their guns from the start, and still managed to get the movie made.
The opening scene where Thora Birch is in her room dancing to that wacky Bollywood film music clip was worth the price of admission. And Steve Buscemi has always looked like a Clowes character.
Wil: What percentage of the day are you working as opposed to pursuing the typical distractions for artist-types, like heroin or prostitutes?
Wayno: Heroin? Prostitutes? I can't afford that stuff.
I work as much as possible, though I "supplement" my income with a non-artistic day job. I work every night and most weekends, and don't get much sleep, so I'm at the drawing board or deep into Photoshop pretty much full time.
My indulgences run more to dinner out with my wife on weekends, and buying way too many CDs. My biggest time-waster is watching "Simpsons" reruns for the twentieth time.
Artists enjoy a mythical romantic, drunken image, but you have to be sort of a homebody to get much work done, at least in my part of the art world.
Wil: Ever had any interest in doing web animation via the Shockwave/Flash technologies?
Wayno: Yes, I've always been very interested in animation. I'd love to use that technology, and getting some Shockwave or Flash training is on my "to do" list. Well, actually I'm waiting for the gods to drop an enthusiastic student/inter/animation geek in my path -- someone willing and able to do the dog work.
Wil: Does the amount and joy and jubilation that Disney has brought to the world offset their attempts at corporate world domination?
Wayno: I don't see that they've brought any actual joy or jubilation to the world. They're just a rotten and corrupt organization; the real "evil empire." Nobody's quicker to cry foul (or more litigious) than an accomplished thief.
In the interest of full disclosure, I feel I should tell you that the art director of a children's magazine published by Disney was once told by his boss to stop hiring me for illustrations because my art "skewed too young," but I swear that hasn't colored my opinion of the entire corporation.
CHECK OUT WWW.WAYNO.COM