You Wacky Kids And Your Crazy You Tube! I Love You!!!!

By John ďWi Fi? Like Wi Fipedia?Ē Saleeby
April 1st, 2018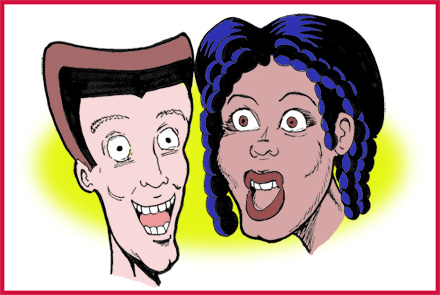 Oh, the Comedy World changes more and more with every passing day! Movies? Who goes to the Movies? Last Time I was in a Movie Theater Judd Apatow was crawling around eating popcorn off of the floor and crying. Television? Itís over. No, wait - Roseanne Barr is back. That might be why Judd Apatow is crying. So what happened? You know what happened - That darned Internet! More people are at You Tube watching little kids fall off of skateboards than whatever Apatow and his idiot friends just spent eighteen months and one hundred million dollars putting together. In two years the guy you laughed at when his dog bit him on the nose will be on You Tube making a fortune. Oh wait, the dog will be on You Tube making a fortune. The guy screwed up and made a Movie with Judd Apatow. TOO BAD!
Gosh, I wish there was such a thing as You Tube when I was a young guy trying to get into Comedy! There was nothing to do but stupid Stand Up! I had to pack up all my stuff and go to New York! Can you kids imagine a World where you had to go to New York and do stupid Stand Up to be funny? No wonder I was drinking so much beer! Yeah, thatís why I was staggering all over New York throwing bottles at people and passing out on subway trains - no You Tube! If only there had been such a thing as You Tube at the time - Iíd be a Rich Famous Comedian in Hollywood today instead of a poverty stricken broken down bum working in the Drive Thru Window at Dippitty Doo Do Nuts.
ďJon Stewart and Jim Gaffigan didnít need You Tube to become successful in those days!Ē†
WHO SAID THAT? WHO SAID THAT? Aw, crap! Is that Creedence Clearwater Revival on the Radio again? If only they had You Tube in the Sixties so that John Fogerty guy would have had something better to do than that ďDown on the corner, Out in the streetĒ bullshit. Everything would have been different! Iíd be Writing this with a Nuclear Powered Space Pen instead of this Fred Flintstone Ball Point Pen thing. Thatís why Iím not a successful Comedy Writer, Iím stuck with this Fred Flintstone Ball Point Pen thing instead of a Nuclear Powered Space Pen with a Radioactive Laser Heat Ray! SHUCKS!
I bet Liza Koshy has one of them newfangled Nuclear Powered Space Pens! You ever heard of a You Tube Comedy Super Star named Liza Koshy? Itís okay if you havenít, Liza Koshy is still a Star whether you have heard of her or not. Liza Koshy is a Laugh Riot and if you donít know about her itís your loss and right now Liza Koshy is probably making fun of you on You Tube and millions of people are rolling around on the floor laughing at what a loser you are and . . . Gee, it might be nice if some of them were laughing at what Iím Writing about here at Acid Logic. Gee, if Liza Koshy starts doing stuff about George Romero, KISS, and Japanese Monster Movies my Acid Logic stuff will be as forgotten as Joe Piscopo!†
But lemma tell ya about Liza Koshy . . . Finding out about Liza Koshy from Acid Logic in 2018 is like finding out about Fleetwood Mac from The Dead Boys in 1978. Liza Koshy is a funny cute talented girl who has become a BIG COMEDY STAR after putting a few million Comedy Videos on You Tube instead of sitting around at Stand Up Open Mikes drinking beer and going ďWhen am I on? Am I on soon? Iím on soon, right? I need another beer. When am I on? Do I have time for another beer?Ē Look at Liza Koshy compared to Amy Schumer and tell me Stand Up Comedy is a healthy way for a young woman to spend her time. Yeah, Liza Koshy is adorable, but more important than that, she is also COMPLETELY OUT OF HER MIND! Lawd, that girl is CRAZY! Comedy dullards like Amy Schumer sit around thinking ďWhat can I do that would be really crazy . . . Hhhhmmm . . . No, that would confuse the Executives at the TV Networks . . . Oh, I know! . . . No . . . That might get me in trouble with Judd Apatow †. . . ď Liz Koshy just goes ďUh, just bring the camera some place around here and Iíll GOOF AROUND . . . ď and a half hour later there is a new Comedy Video to put on You Tube - ITíS MAGIC! Yeah, itís pretty obnoxious stuff. But look up ďObnoxiousĒ is the Internet Dictionary and the definition is ďPeople a lot younger than you who are a lot more successful than you.Ē
You know who else is really Obnoxious? Rhett and Link. Or are they Link and Rhett? No, itís definitely Rhett and Link. I donít care, Rhett and Link or Link and Rhett are Successful and Popular or Popular and Successful and Iím Jealous and Resentful or Resentful and Jealous. Remember when George Lopez had a Late Night Talk Show on TBS? I have a vague memory of Link and Rhett appearing on that Show. They looked like they were about Twelve Years Old , they showed a bunch of Comedy Commercials they had done for some Donut place, and it was so hilarious Iím sure George Lopez was afraid they were going to dump his piece of shit Talk Show and replace it with a hilarious Show about Twelve Year Old Kids in a Donut place. But then TBS replaced George Lopezís piece of shit Talk Show with Conan OíBrienís piece of shit Talk Show and whoever made that decision is probably Producing Amy Schumerís next Movie for Judd Apatow. So for years after that while I was Writing Articles for Acid Logic and Recording Comedy Pod Cast Episodes I would occasionally †think about those two kids I saw on the George Lopez †Show and hope they were going to Stand Up Open Mike Nights, maybe one of these days they might get to do an Opening Spot at some Comedy Club for Twenty Bucks . . . Then I found out while I was fucking around with Acid Logic and that goddam Pod Cast those Rink and Lhett bastards were doing Comedy Videos for Nine Hundred And Ninety Nine Billion Fans all Over The Planet and had their very own Production Company in Hollywood where they do a Big Hit Internet Show called ďGood Mythical MorningĒ every day and now I am Writing an Acid Logic Article about how I am going to commit Suicide. Iím going to cut out all the stuff about You Tube Videos and Liza Koshy and Link and Rhett and Rhett and Link and Rink and Roll and keep all the stuff about committing Suicide and Write new stuff about committing Suicide and Iím going to commit Suicide and once Iíve found out what itís like to commit Suicide Iíll Write some more stuff about committing Suicide and after I finish my Acid Logic Article about committing Suicide Iíll do the very first You Tube Comedy Video †by a guy who has committed Suicide . . . Oh, shit - Freddie Prinze has been doing a You Tube Comedy Show for the past three years? Shit!†
Iíll just wrap this up and go do my laundry. Doing your laundry at Ten OíClock on a Friday Night is pathetic but itís a lot more constructive than Writing a lot of shit about . . . Eh, why go on about it? Meanwhile in LA Liza Koshy is making a Comedy Video about taking wet laundry out of a washing machine and putting it into a dryer that will be really funny and eight billion people will have a wonderful time watching on You Tube. Except for George Lopez who is taking Link or Rhettís wet laundry out of a washing machine and putting it into a dryer.

What do you think? Leave your comments on the Guestbook!
John Saleeby wrote for The National Lampoon while he was in high school, was a stand up comic in New York, and has contributed to the net humor zines Schmuck.com, Campaign Central, and the legendary American Jerk. He's on medication now so he's probably a little nicer now than he was when you met him earlier. Email - jacksaleeby1@hotmail.com