Sashimi Quest

By Patricia Stirling and Pete Moss (narrated by Pete Moss)
June 1st, 2019


If the question is: What's your favorite food? How many of us will answer 'sashimi'? I know of at least one -- my friend Patty.

Patty has spent most of her working life in kitchens. She's prepared every kind of food you can imagine. She can chop, fry and filet fish with astonishing dexterity. Which perhaps has something to do with why her favorite food is sashimi.

Sashimi is a minimalist's delight. Preparation consists of deft knife strokes and arranging the food on a plate. For a professional cook who has spent years carefully following exacting recipes, tending, boiling, baking and sautŽing comestibles so that they come out just right, sashimi is a delight.

Patty and I live in San Diego. Patty no longer works in kitchens. I am semi-retired. We decided it might be a fun and worthy quest to find the best sashimi platter in San Diego county. What follows is an account of our adventures.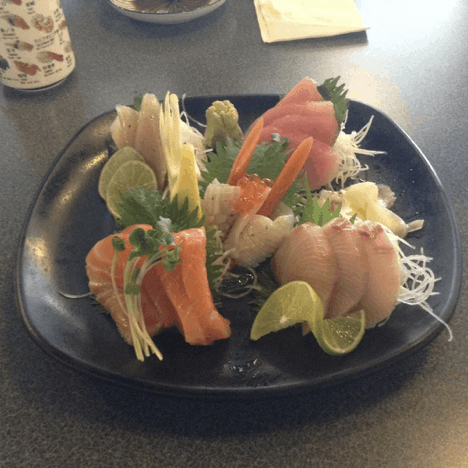 Sushi Base
Our first foray is to Sushi Base.
Sushi Base is a tiny hole in the wall in a nondescript mini-mall along a generic SoCal commercial strip in Chula Vista, California. Given the unpretentious setting, our expectations are low.
We are pleasantly surprised. Inside, the walls are covered with photos of menu items, from which we select the largest sashimi platter. We can watch the sushi chef working on our order, behind the counter, accompanied by K-pop or Japanese disco tunes.
The sashimi is fresh. There are a variety of flavors. Of course, no two times are the same. A good sushi chef prepares whatever they find at the fish market on a given day. There's always tuna and salmon, but there could also be yellowtail, snapper, albacore, sea bass, mackerel, squid, or octopus. Or something never seen before. The oceans are vast and full of surprises.
The chef at Sushi Base certainly has an eye for delicious fish. And a sure hand with the blade. This chef could have been a surgeon, his cuts are that delicate and precise. The beautiful platter he sends us has three exquisite slices each of salmon, cured mackerel, octopus, yellowtail (hamachi), and four of tuna. It is heavenly, well worth $25.
Nor were the condiments bland. On several occasions we were given burdock root. Sort of a cross between carrot & radish. There's also a big green leaf with a vaguely minty flavor, julienned daikon, fresh wasabi, a pile of pickled ginger, carved lemons, and a sprinkling of roe.
All in all it seems that Sushi Base will serve as an excellent benchmark from which to judge sashimi platters in the rest of San Diego county.
Our second expedition is to Sushi 2. Sushi 2 is in the Spreckels Theater building in downtown San Diego.
Spreckels Theater was built by a sugar baron, 100 years ago. Whatever else you may say about this Spreckels guy, he got his name on a lot of old buildings in California.
Sushi 2 is a big, packed joint, blasting rock music, with a line out the door for lunch and dinner, owing to its low prices. The sashimi plate is $12 for your choice of seafood. We choose tuna, salmon, and yellowtail (hamachi).
The plate arrives with two slices each, which are huge and so thick they are fibrous and chewy, rather hard to eat. It is fresh and delicious, however awkward to eat, and getting that much hamachi is a luxury. The condiments are paltry – sliced cucumbers and a tiny dab of wasabi. If Sushi Base is the New York Yankees then Sushi 2 is the San Diego Padres.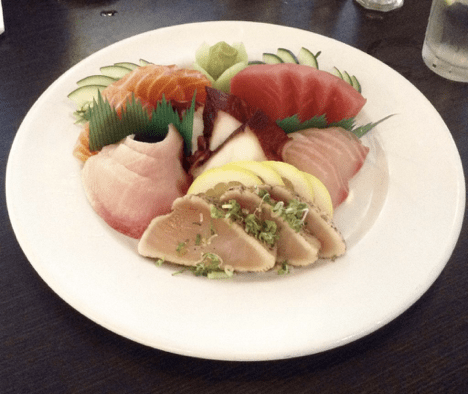 California Sushi Bar
Out of convenience we try California Sushi Bar in downtown Chula Vista next. We don't know what to expect -- the website advertises 'an eclectic fusion of traditional Japanese flavors with a south of the border kick'
If one is conspiracy-minded one might advance the theory that 3rd Avenue Village in Chula Vista is where corporate marketing departments field test trends that could break big nationally. It wouldn't be a surprise if Carl P. Karcher, for example, the guy who started Carl's Jr and California Pizza Kitchen, has some money on California Sushi Bar.
The atmosphere seems more like a modern mariscos joint than a sushi bar, though the airwaves are filled with American 80's pop tunes instead of cumbia, norteno, or ranchero. California Sushi Bar is flashy and corporate, with huge plastic menus and staff dressed in black, darting about with electronic devices.
The assorted sashimi platter we order has three slices each of salmon, octopus, seared albacore (takami), white fish (kanpachi amberjack?), yellowtail, and octopus, and four slices of tuna – nineteen slices of seafood and it cost $27.50. A great price.
The octopus is boiled -- not raw like tako sashimi should be – and cut thick, making it pretty chewy. It belongs on a mariscada platter, alongside ceviche. The albacore is seared a bit much, drying it out. The white fish is bland and comforting. The salmon and yellowtail (hamachi) are incredible. They are melt-in-your mouth perfect. Seaweed, lemon, cucumber slices, and a generous blob of wasabi adorn the platter – but where is the pickled ginger?!
There are different species of tuna used in sashimi – bluefin (maguro) and the cheaper yellowfin (ahi) -- and several different cuts, from the expensive fatty belly (toro) to the cheaper meaty back (akami). This comes into question at California Sushi Bar. The tuna has a weird texture – it is a little mealy and too firm, not soft and juicy like the cuts at Sushi Base.
Overall the fish is probably sourced from enormous floating factories roaming the oceans for months at a time, strip mining the waters of every living thing in their path, then flash freezing it. When they pull into port at long last, the product is loaded into reefer boxes & flown to whatever seafood distributor has put in an order.
The chef at Sushi Base, on the other hand, perhaps has a personal relationship with local fisherman who head out in the evening in small boats, spend the night tending their gear, and return to the dock at dawn where Mr. Sushi Base meets them and buys the catch for that days' menu.
California Sushi would be the Cleveland Indians: perennial contenders who never win the World Series.
ÔBut sashimi is expensive' writes Patty, during our regular email exchange. Patty is a very practical young woman. Sashimi is expensive, there's no getting around that. The most cursory googling reveals that the average price for a sashimi platter is around $25 per person.
Neither Patty nor I are wealthy. But life is short and one should make the most of it. If sashimi is a chief pleasure for Patty, our quest will be financed one way or another.
Perhaps we could set up a Go Fund Me or otherwise solicit money on line. Except neither of us have any idea how to do such a thing. Anyway, when you start taking money from people your integrity becomes compromised. Ask any member of Congress. Or don't. You're unlikely to get a straight answer.
Patty's idea is to split a sashimi platter. $12.50 per person is much less sticker shock. Also, spread the quest out over several months. But the criteria needs some fine tuning. There are hundreds of sushi joints offering a sashimi platter in San Diego county.
Neither Patty nor I have the wherewithal or the time to find the definitive Ôbest'.
We take a break from the Sashimi Quest. Patty's brother Jim is visiting from Portland, Oregon for a week. We get half a side of salmon, and after Patty sneakily trims off the fatty belly meat for sashimi, we grill it and some kebabs over a mesquite fire in my backyard. Jim makes a honey ginger glaze for the salmon. The result is superb. The crispy salmon skin would delight any sushi chef on earth.
Then it's back to work. Patty does some googling. She comes up with two candidates. The first is Unisushi in the downtown Chula Vista mall on H street. The second is Hanaoka on 30th street in National City. Patty is inclined to go to Hanaoka. Unisushi seems more of a Mexican-Japanese fusion place and you can't get much more corporate than a suburban SoCal mall. Patty wants an authentic Japanese experience.
We decide on Hanaoka over Unisushi.
Hanaoka is a good-sized free-standing restaurant at the southern edge of National City. Patty wants an authentic Japanese experience, and it's certainly Japanesy when we arrive. ÔSamasei' is the greeting from the staff.
There are signs touting Sapporo beer on every wall, and a full sake bar. There's a check list for ordering rolls. Playful retro Japanese and American pop music fills the large dining area. It might as well be the soundtrack for the film ÔAmerican Graffiti'. That idealized era consisting of a few years on either side of 1960, right before all hell broke loose with the Viet Nam War and the British Invasion.
Hanaoka fills up with sailors, Pacific Islanders, and Asians. We arrive in the vanguard of what is going to be a profitable lunch crowd for this establishment. We have with us Donna, Patty's eighty-seven-year-old mother. Donna enjoys taking her kids out for fancy meals and covering the tab. Patty and I will do our best to indulge Donna.
We take a seat and order the sashimi lunch platter. At $16.95, this is a bargain. It comes with rice and miso soup. The plain sashimi platter is just $11.95. Patty isn't interested in the rice and miso soup, but I explain to her that this was the standard school lunch when I attended the Fuzoku school in Tottori, Japan, as a kid. The Miso is a perfect salty-soy broth and the rice is plain. Not sugared sticky sushi rice.
When the sashimi platter arrives, it is symmetrically arranged on a black, triangular plate. There is shredded daikon and mixed seaweed. The ginger and wasabi have to be requested, but are presented in small, compartmented condiment plates, which are oddly satisfying. Perhaps the staff does not expect customers who have some knowledge of proper sashimi.
There are twelve pieces of fish – three each of tuna, salmon, albacore, and a white fish the server calls yellowtail. It isn't hamachi yellowtail, more like amberjack yellowtail, also known as kampachi -- firm, shiny slices of big-grained, very white fish, a bit bland. Hamachi is darker and satiny, soft and sinfully rich. We miss not having it here, but that would bring up the price.
All the sashimi is in shiny, floppy, good quality slices – they know fish at Hanaoka. The salmon isn't from the rich, fatty belly, but it is fine. The tuna is a glistening, perfect ruby red. The albacore tataki is just barely seared, the flesh is soft and flavorful.
Hanaoka might as well be in a suburb of Osaka. It could be the San Francisco Giants: a successful team representing a sophisticated metropolitan region.
It's not out of the question that Patty and I could obtain our own sashimi. I acquire fishing gear. two poles and a tackle box. The question is: Could we catch anything in San Diego Bay that would make decent sashimi? Without a boat the options are limited.
Tuna has been nearly extinct off Southern California for a long time. Due to their schooling tendencies, Tuna are easy to catch. Every variety of them are delicious.
Other species take note: Don't be delicious to humans.
I google and find Otay Reservoir has an abundant population of largemouth bass. Bass are fresh water sharks and will bite on anything, even cigarette butts, I kid you not. The problem is: fresh water fish tend to pass along parasites. Like pig meat; cook before eating. So largemouth bass caught at Otay Reservoir may not be good for sashimi.
So, why eat anything raw?
I have a foggy recollection of the reason behind sashimi from when I was a kid in Japan. It has to do with absorbing the vitality of the creature you are consuming. One should consume the flesh raw as soon after expiration of the creature as possible. Thus, one obtains the most life force. This is a Shinto concept, I believe. It is a standard tenet of many ancient animist religions. There is a two letter Scrabble word, ÔQi', which is the Chinese term for this life force.
Modern science explains that cooking anything destroys nutrients. Essential vitamins & aminos degrade when heated. Or you could just say you eat sashimi cause it's delicious.
Next stop – Kanpai. It's an OG Japanese restaurant in a Chula Vista strip mall, expanded into noodle and sushi storefronts. We'd once gone there for ramen, but this time it was for sashimi.
The waitresses are mostly old, too, as if they've been there since opening day. They have the same air of condescending boredom as seasoned servers the world over.
Kanpai is bustling with customers, many seated on stools around a sushi bar, decorated with hundreds of small, cute Japanese cat statues. Three chefs work the bar. Asahi beer is advertised everywhere, even on the waitress's aprons.
It isn't hard to picture competing salesmen from Asahi & Sapporo, trying to lock down the Kanpai concession. Perhaps igniting a beef between factions of Yakuza. A customer at the next table orders food in Japanese while talking to his tablemate in Spanish and English. The NLCS plays on the TVs. Baseball, with its orderly procession of 3's and serene disregard of time limits, is a very Japanese game.
There is plenty of sushi on the menu – even an abalone special – but the only sashimi offerings are for an appetizer or for a dinner with salad, rice and miso soup for $19.95. We choose the dinner and also get seaweed salad.
The sashimi arrives on a little wooden platter – three slices of tuna, two snapper, one hamachi, one octopus, and one salmon. The tuna is very good, pinkish rather than ruby red, but very fresh and not grainy. The snapper has its scored skin on and is quite tasty. The octopus, a cross section of large tentacle, resembles a skull – appropriate for Halloween! The hamachi and salmon are so nice I wish I had more than just one piece.
Seaweed and very strong wasabi adorn the platter.
Next time we would skip the dinner and order the appetizer sashimi, which starts at $14.95, and ask for extra salmon and hamachi. The ahi tuna always dominates sashimi plates – maybe it's the cheapest cut!
Kanpai is worthy of a second visit. It might take more than one visit to learn how to get what one wants at Kanpai. It's a place that has been where it is and doing what it does for long enough that it knows how things should be done. One enters such an establishment to learn that one still has much to learn, no matter how far one has traveled.
If you went back in time to 1972 and told a random teenager, wearing their McGovern for President pin, that in 2018, the suburban shopping mall would be a dying breed, you would be laughed at.
Nowadays that same teen is probably a grumpy old Trump supporter. And suburban shopping malls are indeed on the ropes. Chula Vista Center at Broadway and H Streets in Chula Vista California is doing better than most. There's a gutted Macys and a soon to be closed Sears. There's a JC Penney hanging by a thread.
But there's a thriving restaurant row, with every mall chain style restaurant you could desire. And Chula Vista center is barely ten miles from the border, so it draws a good crowd of prosperous Mexicans. On a busy Saturday night, half the license plates on the cars in the lot are from south of the border.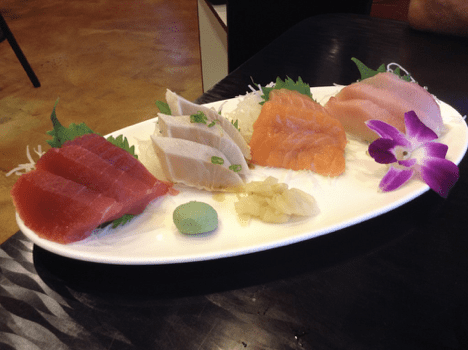 Unisushi
Unisushi is not part of a chain. It is not the Applebee's or Red Lobster of sushi, which is not what Patty and I expected. It's actually the storefront business of a Mexican sushi chef who also caters sushi to hotels and sports events. The place is small. It's crowded. There are five chefs behind the sushi bar. Almost all the tables are taken.
There's five TVs showing both American football and soccer. There's music on, but turned so low it's unidentifiable. We take a seat at the last table available. We order seaweed salad and the large Sashimi combination. Twelve pieces of fish for $24 – about the usual price. The garnish is generous, with daikon, pickled ginger and wasabi, and a lovely flower.
The albacore is seared as always. The yellowtail not as rich and flavorful as we hoped for. But the tuna and salmon are melt-in-your-mouth soft and fatty. The seaweed salad is twice the size of anywhere else and comes on a bed of marinated cucumbers.
Unisushi has a pleasant atmosphere and beautiful presentations. Worth a return visit. At this point Patty and I have reached the conclusion that we will add only one or two more places to this list. There's a sushi lounge in downtown San Diego, called 'The Hive' that has a sashimi platter called ÔI know the chef'. It costs $58. This will be our Thanksgiving dinner.
Thanksgiving comes and goes. Patty and I do not make it to The Hive. Instead, we attend Patty's sister's house for Thanksgiving dinner. But, two days after Pearl Harbor Day, Patty and Donna come to visit Chula Vista. I decide to return to Hanaoka for dinner.
It's winter. It's dark. We drive through the streets of Chula Vista marveling at the Christmas lights on the suburban lawns. At Hanaoka we find a parking spot steps from the front door.
We place our order with the cheerful waitress. Patty orders the fifteen piece sashimi platter, which includes a green salad, steamed rice and miso. Donna orders a small salad. The sashimi platter arrives. With rice and miso soup. There are two pieces each of salmon, ahi, hamachi, snapper, and slightly seared albacore, on shredded daikon and seaweed, with wasabi and pickled ginger. The $20 price tag for this is acceptable.
Next stop, another outing to Sushi Base. The wind is blocked out by plastic sheets snapped over the doorway. The place is almost empty so we get a cozy booth. Japanese pop songs sound warm and welcoming. A song plays that's vaguely K-pop with lyrics in Spanish.
It's an icy winter night for Southern California. We get a bowl of spicy Red Dragon ramen. It's not too cold to prevent us ordering the large sashimi we've gotten several times before at Sushi Base. It's always a bit different, depending on the fish in the house.
The plate is garnished beautifully with daikon, burdock, ginger, wasabi, limes, radish sprouts, and shiso leaves – a garden of delight. Tonight's offering is sixteen pieces of five different fishes – salmon, hamachi, ahi, snapper, and cured mackerel. The snapper is the best I've ever tasted, and the salmon? Soft as warm butter. Cured mackerel is sweet and pungent, a striking contrast to the smooth, rich texture of hamachi.
While we eat, Sushi Base fills up with customers and soon every table is packed. The chef helps to hand out menus and deliver plates to tables. The large sashimi cost $25 – less than $2 per slice. We gets our Sushi Base card punched and it turns out we qualifies for free ramen. What a great night!
It's icy cold in San Diego – honestly not sashimi weather, but that doesn't keep us from Hive Sushi Lounge for its thirty-two piece ÔI know the chef' platter. It's a swanky hipster sushi joint in the East Village next to City College. Overall, Hive is very noirish. If one has never been there, and follows the instructions issued by google one winds up at a side door with a handprinted sign instructing one to go around the corner. One goes around the corner and finds no doorway marked ÔHive'.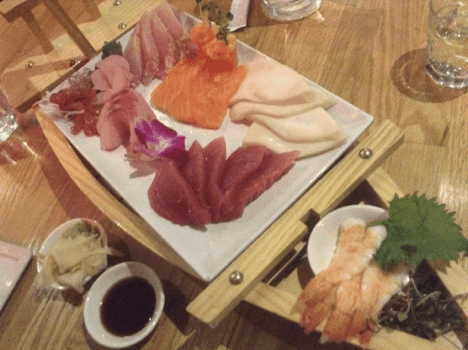 Sushi Lounge
Instead one enters through an establishment calling itself the 'Nectar Room' then proceeds through the Nectar Room, down a hallway, to the Hive. Hive has no windows or doors of its own, as if it were a prohibition era basement speakeasy. This subterfuge indicates there may be a secret menu with forbidden entrees, like whale steak or shark fin soup. I halfway expect a door with a Judas window and a raspy-voiced mug asking who sent us.
The interior is tall, sleek and tasteful, with wood walls and tables, mildly sporty with a vintage pac-man game in the corner and basketball on the TV over the bar. Occasionally a song like 'I'll Buy You a Chevrolet' plays over a really fine sound system.
Apparently, San Diego does have a hipster subculture and the northeast corner of East Village is where they congregate. We are the first customers. The chairs are still on the tables. We sit in the bar at a long table. We wait for the mysteriously named ÔI know the chef' to arrive.
It is no big mystery. The only special item is a pickled baby octopus. There is Ôescolar'. Spanish for Ôscholar'. This is white, very smooth, and densely textured. The fish is fresh and delicious and the pieces, quite generous. There is tuna, yellowtail, and especially good barely-seared albacore that has a smoky flavor. The salmon and dense, snow-white escolar are both rich as caramel.
The yellowtail isn't hamachi, which is fatty and darkish, rather it is more likely kanpachi, which is a lean, light fish. There are prawns that are split and overcooked. I'm not sure why they are there. Perhaps to fill out the Ôthirty-two pieces' claimed on the menu.
There is a paucity of garnish. But there is a small tangle of purply sprouts at the prow of the boat which are quite tasty.
The Hive is not likely worth a second visit. It is sashimi as a pretense. An affectation of younger members of a coastal elite, with some money to burn and a desire to demonstrate sophistication. The chefs are kids who are not steeped in the subtleties and tradition of preparing sashimi. This year they are sashimi chefs. Next year they may be grilling reindeer steaks over reindeer dung coals on a Lapland hibachi.
Patty and I have an East Coast vacation coming up. We've been planning. Everything is falling into place. Including coveted tickets to see the hit musical ÔHamilton'.
Patty, with admirable thoroughness, winnowed the field of candidates from which to sample sashimi on the East Coast. First there is Masa 8, in Lawrenceville, New Jersey. Lawrenceville is an enclave of super privileged old baby boomers. Masa 8 could be very good, or very bad. The pictures on Google make it appear a fairly slick place that would fit in a mini-mall in any well-off suburban neighborhood in the USA.
Next; Hana Michi on 32nd St in NYC. Hana Michi is whimsically named after an anime character, which I discover while Googling. I know nothing about anime. I don't know if a sashimi place named after an anime character is good or bad. Hana Michi seems to be a cozy hole in the wall joint, like the beloved Sushi Base in Chula Vista.
Last will be Ajitsen, on Chambers street, in Princeton, New Jersey.
We phone in a take-out order for sashimi and Brussel's sprouts from Sushi 2, conveniently located downtown near Patty's workplace. Pete picks it up, meets me on my way out of the office, and we catch the airport bus for a red-eye flight to Newark, New Jersey. After checking in and going through security, we settle at a table near our departure gate to play Scrabble and eat. The six pieces of sashimi are small, a little disappointing, but the quality of the hamachi, salmon and ahi are just fine. A good choice for a preflight meal.
We arrive in Lawrenceville in 20-degree weather – a little cold to be eating sashimi, maybe, but that doesn't stop us. We've been in Lawrenceville for twenty-four hours and the demographics have changed in the last few decades. What was once an impregnable stronghold of Caucasianess now hosts a large number of Asians.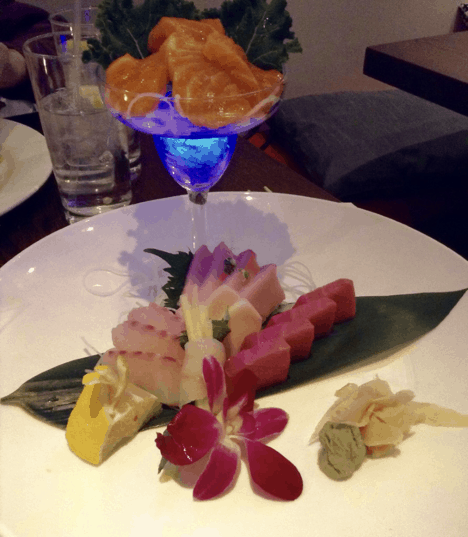 Masa 8
Masa 8 is in a flashy little strip mall in the rural suburbs. The roads are icy and the Super Blood Wolf Moon hovers eerily over us in the cool, crisp sky. Not a lot of cars out tonight. The place is a small, upscale, lovely and comfortable sushi bar and dinner house. Easy listening jazz and pop are piped throughout. At first listen the music is inoffensive, but a trained ear picks out Miles Davis, ÔRound Midnite' and Thelonius Monk ÔNice Work if You Can Get It'. Neither Miles nor Monk gave a hoot about being inoffensive. I wonder how they would feel about their music being used as background noise in an expensive sushi joint in an elitist enclave like Lawrenceville?
Patty, my mother, Alice, and I snuggle into a booth table. The menu appears pretty authentic. It better be. I order the Sashimi Plate, at $24 for eighteen pieces of fish – an incredible deal, but what will it look like? When they bring it Patty's jaw drops. Someone has gone to a lot of trouble to make her very happy!
Five large salmon slices nestled in a champagne glass over a bed of shredded daikon embedded with a light that makes the fish glow! At its bass, four slices of ahi, hamachi, and three of snapper and escolar (white tuna) are laid across a large decorative leaf, and a fluke fillet coiled around strips of lemon zest. It is amazing – almost too beautiful to eat. This sushi chef is in the league with the chef at Sushi Base in Chula Vista, as far as expertise and aesthetics.
Is the sashimi fresh and delicious? Where would a sushi place so secluded get its fish every day? Somehow Masa 8 manages. One can imagine the chef arising at 4 in the morning and driving to the fish market in Philly or NYC.
The salmon melts in her mouth, the ahi is soft and juicy, the hamachi rich and dense, and the snapper full of its delightful fish flavor. The escolar is heavenly, its solid white slabs are tender, like biting into fois gras. She am going to be pleased to find more escolar on sashimi platters as we quest further on the east coast.
Patty and I take the afternoon train into NYC and locate our hotel at the edge of Koreatown and Times Square. The cold is considering letting up enough to invite rain clouds into the city in another day or so, but still ice and salt cover the sidewalks and walking is quite brisk. We push our way through crowds in Times Square to the Richard Rogers theatre and pick up our Hamilton tickets for the next day's matinee. On the way back we make a beeline for Hana Michi, the hole-in-the-wall sushi joint near our hotel.
But it is closed – it looks like a kitchen emergency going on. Half a block away there is another sushi place, and it's open, thank goodness. Inside Akura are about a dozen uniformed bicyclists, bags and packages of food piling up on the sushi bar as five sushi chefs chop and roll frantically.
Obviously, there is a lively takeout business due to the cold. New Yorkers want to snuggle up with Netflix & clanking radiators after dinner appears at their door, out of the frozen night.
As quickly as we come in and get a table, the delivery riders are gone with their goods and we are the sole occupants, besides the waitress, who is mostly on the phone taking more take-out orders. It makes me wonder if they take sit-down customers seriously, or if we are just in the way.
Apparently not – our Sashimi Deluxe (twenty pieces for $24) is a gorgeously presented plate and an exquisite deal. The fish is cut thick! We get more of that magical escolar and fluke fillets, this time rolled into a rose with paper thin lemon slices. There are also four slices each of hamachi, salmon, and ahi tuna, all glistening and flawless. I am delighted.
Before presenting the check, the waitress brings us a peeled and wedged orange nestled into its peel to eat, with toothpicks, for dessert. Akura is a paragon of the art of Sashimi.
The next day, under lowering skies, we are off to see Hamilton. It's cold and windy. The sidewalks crunch with salt. None of this deters the hordes of tourists.
NYC has become a quaint tourist village. A parody of its once rollicking self.Where formerly were porno theaters, there are now Disney musicals. The pickpockets and hustlers and hookers, nowhere to be seen. Nobody is blasting raunchy disco or menacing punk rock from any boom box. Nobody is blasting any music at all.
We arrive at the Richard Rogers and get in line. Turns out it was a good idea to pick up the tickets the night before. The box office and will call are mobbed. We line up obediently and wait patiently to be herded into the theater.
The joint is sold out. We take our seats and the show begins, right on time. It's an energetic cast, professional as one would expect for an NYC production on Broadway.
The show is a serious history lesson, disguised as a musical, with many parallels to modern events.
The spectacular event of Hamilton energized us for the walk back through Times Square at sunset in freezing weather. The grand fountain by the New York Public Library was frozen into massive icicles. The ice rink was being scraped so we didn't get to see any skaters.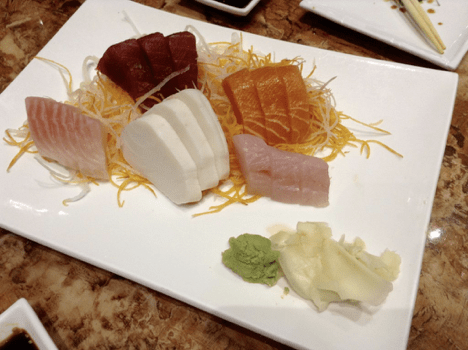 A&B Sushi
A & B Sushi was our dinner stop on the way back to the hotel. Another charming storefront sushi joint with empty tables, preparing delivery orders. It's not nearly as bustling as Akura and I hoped that wasn't a bad sign. We settled in to talk about the show and ordered the usual seaweed salad and the Sashimi dinner, with fifteen very nice pieces assorted fish for $19, another fantastic bargain.
The plate was nothing fancy, but Patty sure wasn't disappointed. The slices were all generously thick and meaty. There was escolar again, which she saved to savor for last, after the hamachi, salmon, ahi, and snapper. It was a fine finale for a great Broadway day.
And with that our East Coast trip is nearly concluded. The next morning we have breakfast at a Seinfeld style diner, with an Australian friend of Patty's living in Brooklyn named Matthew. He regales us with stories of covering the World Cup in South Africa, since he is a sports journalist. He also bemoans how increasingly difficult it is to earn a living as a journalist. It was never easy but nowadays the internet laughs in the face of any content provider and their wretched pleas for a crust.
Patty and I walk a few blocks to Penn Station and catch the train to Lawrenceville.
It was time to return to New Jersey for the rest of our visit with my mom. Alice picks us up at Hamilton Station.
The next day, temperatures rose as rain came, and when the clouds subside we drive to Princeton to find more sashimi. Princeton's quaint downtown houses many restaurants and we located Ajiten, an upscale Japanese basement cafe. The private wooden booths are cozy and inviting, and walls and shelves tastefully adorned with prints and knick-knacks, even informative posters of sushi fish and cuts.
I order tonkotsu ramen, Alice gets the tonkatsu pork cutlet, and Patty asks for the sashimi Platter D, that has tuna, salmon, yellowtail, and scallop, for $20. No escolar this time, but she's eager to try raw scallop.
For the first time Patty is disappointed. The pieces of fish are tiny, and there are only ten. It is delicious, the fish is excellent and the slices of scallop are a wonderful change, but it's like eating an appetizer for dinner next to our hearty fare. We may visit Atijen on a return trip to New Jersey, but Patty won't order sashimi again.
The waitress is at least friendly. She tells us she is from China. She migrated first to Tokyo and then to Princeton. She speaks three languages and says the USA is her favorite place she's lived.
Back at Alice's house we play Scrabble and watch TV before driving to Hamilton Station. Patty and I board the train for Newark airport, then board the plane for San Diego.
The plane is half full. Patty and I have an empty seat between us. We drop the table and play Scrabble. The flight flies by and in no time we are touching down in San Diego, a few minutes early. Just in time to catch the last bus to Downtown.
The bus drops us off at City College and we walk a few blocks to Patty's building.
There's a jarring contrast between San Diego and NYC: The numerous homeless people all over DTSD. Homeless people were in scant supply in NYC. Sub-freezing temperatures may have something to do with that.
And where will we go next for Sashimi? That is the question, as always.
What do you think? Leave your comments on the Guestbook!
John Saleeby wrote for The National Lampoon while he was in high school, was a stand up comic in New York, and has contributed to the net humor zines Schmuck.com, Campaign Central, and the legendary American Jerk. He's on medication now so he's probably a little nicer now than he was when you met him earlier. Email - jacksaleeby1@hotmail.com