April 1st, 2006
The Abandoned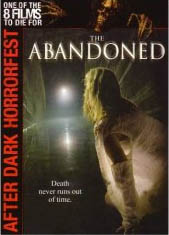 ***
DVD
Directed by Nacho Cerda
Written by Karim Hussain, Nacho Cerda, Richard Stanley
Starring Anastasia Hille, Karel Roden, Valentin Ganey, Paraskeve Djukelova
Produced by Julio Fernandez
R
98 mins 2007
I'll confess to you all up front, I was disappointed by "The Abandoned". By now you're all a little confused. I gave this sucker three stars, after all. One more and it's the best I give. So what gives, you wonder? Why am I so disappointed?
First, a little background. "The Abandoned", for those not in the know, is the eighth film in the "Eight Films To Die For" series that comprised the After Dark Horrorfest. The first seven were released directly to video and "The Abandoned", meanwhile, was elevated to an exalted status and given a theatrical release, albeit a limited one. Which is why I'm just getting to it now.
And what's in this exalted film is an American woman who's just discovered her biological mother died somewhere in Russia, and left her a house on the middle of an island. So our heroine heads for Russia to check out said house and possibly get some clues about her birth parents. What she finds over there is of course like nothing she expects to find. For example, the twin brother she never knew she had is over there. And that's not the weirdest part of the whole thing. It's only going to get weirder from here on out--creepy dopplegangers, a deadly plot or two, and murderers from beyond the grave just to name a few factor in throughout.
"The Abandoned" was a good movie. Sure, it's got a nice plot to it, but it's still got its problems--don't get me wrong, even though I'd call it maybe only the third or fourth best in the After Dark Horrorfest, third or fourth best in a lineup of near-perpetual kickass like that still puts you above plenty of other movies--but a prize like big distribution should be reserved for the very best, and I didn't think "The Abandoned" was that.
One good example of the problems I had with it was the weird and downright inexplicable plot holes in here--for instance, there's a generator in the basement. And somehow, it's still running after forty years of disuse. And where'd they get the fuel to run it? Worse, the overall effect is short on actual scares. Creepy moments are here in abundance, but they're a bit spread out to add up to boost the adrenaline the way they should.
But like I said, it's not bad by half. They made an excellent choice of setting--most of the movie takes place in or around this creepy old abandoned house. Most of the scares take place almost out of the corner of your eye as half-glimpsed things appear and vanish.
The scariest parts of "The Abandoned" are what you don't see.
Even the menu is nicely done--on par with even "Gravedancers"--and features multiple places to watch. I suggest watching the opening menu a couple times to get the full effect.
And the ending manages to boast nice plot effects and a decent plot twist.
The special features are at least somewhat plentiful and include audio options, English and Spanish subtitles, a making-of featurette, plus trailers for "Dark Ride", "Gravedancers", "Unrest", "Reincarnation", "The Hamiltons", "Penny Dreadful", "Wicked Little Things", and of course, best of all, the After Dark Horrorfest 2007. Oh yes...it will be back.
All in all, okay, maybe I expected too much going in, but "The Abandoned" definitely didn't live up to what I had hoped for from the one film to die for that got theatrical release.
Behind the Mask: The Rise of Leslie Vernon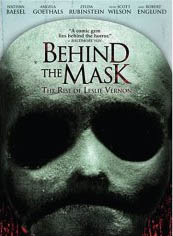 ****
DVD
Directed by Scott Glosserman
Written by David J. Stieve, Scott Glosserman
Starring Nathan Baesel, Angela Goethals, Zelda Rubinstein, Robert Englund
Produced by Scott Glosserman
91 mins
R
2007
Every so often, something comes along that makes me wonder how it managed to only go to video. Something that, while I'm glad to see it on shelves, really makes me shake my head in bafflement as I wonder how something so good got passed up for theatrical release.
"Behind the Mask: The Rise of Leslie Vernon" is one such film.
And what's behind this mask is a documentary profiling the next great icon of evil in the making, Leslie Vernon.
This part alone makes it a unique, shining gem on the video store shelves--the documentary portion of "Behind the Mask" does no less than a brilliant job of deconstructing all those legendary slasher movie staples. Ever wonder why a door always seems to close behind slasher movie protagonists? "Behind the Mask" will explain it. How the killers always seem to manage to escape fates that should be their deaths? Even how they always seem to catch up to their prey so readily even though they never move faster than a brisk walk? All of these questions are answered, in a fashion that's actually believable.
But! That's only half the picture. "Behind the Mask" will actually manage to subtly, almost unnoticeably, convert into a full-on slasher flick. The transition is almost so seamless you have to pound your rewind buttons to determine at what point it stopped being a mock documentary with surprising depth and clarity to a slasher flick so deftly prepared that it cannot help but satisfy.
Let me be clear. This is utterly, utterly original. There is not, that I can recall, anything to compare this to. The best I can do is a flimsy hypothetical--picture Michael Moore doing "Ted and Me", a documentary where he follows Ted Bundy around.
Perhaps even better than all this is the appearance of Robert Englund, whose post-Freddy years (well, almost post) have been surprisingly good to us, and possibly him. He's clearly channelling Donald Pleasance as Doc Loomis here, folks...the parallels are just beyond description, and when you see him act this part out, you should be as convinced as I am. If he wanted to, he could be the Doc Loomis in any new Halloween he wanted. There's just no two ways about it.
Plus, from the great distant past of the eighties, we also get a bit part from still-great Zelda Rubinstein, who still has the chops for solid horror roles, and whose unique voice is a charge to any exposition narrative.
The ending is a marvelous destabilization, with a twist you only might see coming. It's pure slasher flick ending with plenty of innovation thrown in to keep it spicy. And the ending doesn't stop when the credits roll, folks--stick around through the end for one last big surprise that I will NOT give away here no matter how much you beg. Forget it.
The special features include commentary tracks, a making of featurette, a casting of featurette, deleted and extended scenes, a screenplay, audio options, English closed captions, and trailers for "Behind the Mask: The Rise of Leslie Vernon", "Hatchet", "Night of the Living Dorks", "Hellboy: Blood and Iron", and "Masters of Horror: Right to Die".
All in all, "Behind the Mask: The Rise of Leslie Vernon" is going to be, without question, one of the best horror movies you see all year. If for no other reason than it's the start of a whole new horror subgenre, the mock horror documentary--the shockumentary--it's also great enough on its own merits. If you're even vaguely into horror, you must see this.