February 1, 2011
Pontypool

****
DVD
Directed by Bruce McDonald
Written by Tony Burgess
Starring Stephen McHattie, Lisa Houle, Georgina Reilly, Hrant Alianak
R
93 mins
2008
I've been looking forward to this one for quite some time. I'm a huge zombie movie buff, so it definitely looked like a great time to catch Pontypool.
We're going up to the town of Pontypool, where a former radio shock jock is going to find himself, suddenly, neck deep in zombie apocalypse. But the zombies aren't drawn to our meat, or our brains, or anything like that...the zombies in Pontypool are drawn to the spoken word. Can a radio shock jock keep quiet long enough to survive the onslaught of zombies? Or will he talk himself right out of a job...and a life?
This is an IFC title, so I can tell pretty well that it's going to be something else. I've seen a few horror flicks come out of the IFC, and they've generally done a nice job with their horror. And Pontypool manages to combine the excellent track record of the IFC with the sheer bliss of a good old fashion zombie romp.
And Pontypool is a fantastic source of great tension--this is one of those incredible one-set sort of setups, in which pretty much everything is done from a radio studio. And there are a slew of fantastic, horrible moments--the obituary sequence is a mix of horror and ludicrous dark humor that almost makes you want to laugh from the sheer preposterousness of it, but you know you can't.
Pontypool rapidly turns into the strangest zombie movie I've ever seen, but at the same time, it's profoundly terrifying stuff. There's so much to like here--if you're into scary movies, this one will blow your mind. Once again the IFC has brought out a spectacular horror film and done incredible things with it.
The ending is a thoroughly unexpected riot, but it's a terrific ending all the same. It's the perfect ending for this movie, and you'll love it. And stick around for the credits for an extra special ending.
The special features include a theatrical trailer, an international trailer, and an original radio show about Pontypool. You'll also get some audio options and your choice of English or Spanish subtitles.
All in all, folks, Pontypool is spectacular horror. Creepy, terrifying, a little comical at times, just ludicrous enough to really capture the feeling. It's got great performances, a terrific idea, and a horribly fun experience overall. Horror buffs, this one is a total must-see; it's too good not to see it.
Mirrors 2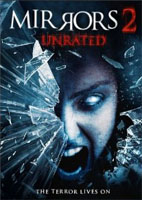 ***
DVD
Directed by Victor Garcia
Written by Matt Venne, Sung-ho Kim
Starring Nick Stahl, Emmanuelle Vaugier, William Katt, Christy Carlson Romano
NR
86 mins
2010
This one is a bit of a surprise for me, folks...I'd been looking forward to this one for some time, after the original Mirrors turned out to be a freaky little romp. But how would its sequel hold up by comparison? Well, that's always the question of the day, now isn't it? That's why you turn to me, after all...to give you hot and fresh movie analysis.
Mirrors 2 joins us down in New Orleans, as the Mayflower Department Store in New Orleans reopens. But it's not surprising that, soon, disturbing visions start appearing in all the store's mirrors, or at least when the security guard is looking. Though what's behind the visions is what's most disturbing; it's an employee who went missing some time ago, and is now seeking revenge on her co-workers.
Yes, I know; I'm as dismayed as most of you that this one really isn't a sequel at all. It's downright dismaying--possibly downright enraging--that this sequel pretty much has nothing to do with the original, since we're not even vaguely concerned about whatsisname from the last one who's still stuck in the backwards world. It's an utter joke that this is called "Mirrors 2" and yet has virtually nothing to do with the original.
So we're left to consider this one pretty much in isolation, and what we get is something largely the same as the original Mirrors--in fact, something largely the same as the ACTUAL original, as in, the Korean--and not so much a sequel as a remake of a movie that's only about five or so years old.
Some might question, and not without reason, why in the world anyone would ever possibly need a remake of a movie that only came out less than a decade ago. Perfectly valid question, but surprisingly, Mirrors 2 is not half bad. It's also not half good, but it's not half bad. What it is is almost the exact same thing, in a low-budget way and with a much more satisfying (if somewhat predictable) ending, but still, almost the exact same thing. Why, in fact, it's almost a mirror image.
It's pretty good, though it doesn't do near as good a job as the first, and isn't near as scary (mostly because they've telegraphed most of their punches), it's still a fairly decent setup.
The ending is quite a bit more satisfying than the original, if for no other reason than no one ended up in a bizarre backwards land, and at least manages to close most of its original loopholes.
The special features include English, French and Spanish subtitles, a making-of featurette, a special feature on the effects work, a set of deleted scenes, and trailers for Dollhouse Season 2, Bitch Slap, Vampires Suck, and the Feed Your Fear set.
All in all, Mirrors 2 isn't necessarily a bad movie. It's nothing particularly great, but it should do if you're looking for a dose of scary movie.