November, 2011
House of Bones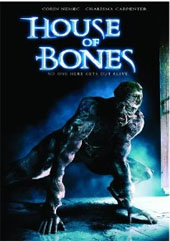 ****
DVD
Directed by Jeffery Scott Lando
Written by Anthony C. Ferrante, Jay Frasco
Starring Corin Nemec, Charisma Carpenter, Marcus Brown, Ricky Wayne
NR
90 mins
2009
Any time you put Corin "Parker Lewis" Nemec into a horror movie, you've got my attention. I was a big Parker fan back in the day and Corin has done some pretty nice work in the direct to video market of late. That and I laughed myself stupid at Star-Ving, the show he did along with David "Bud Bundy" Faustino. And now I get him, along with Charisma Carpenter, in a haunted house horror title, House of Bones.
House of Bones joins us with a group of television ghost hunters--yeah, you know the type--who head out to a plantation home to investigate the assorted goings-on said to be happening there. But when they get there, not only do they find themselves trapped in the house, but they'll be trapped in there with something. And that something is not what you'd call particularly hospitable. Now, with the team neck deep in significantly worse than they imagined, they're going to have to do what they can to survive.
The good news here is that this is not half bad, especially through the opening. They have a very nice combination started up of suspense building / release and laughs mixed in for good measure. I love it--absolutely love it--when a horror movie can both scare me AND make me laugh in the same going. That's some serious value right there.
And even better, they will keep this going through the rest of the movie as well. I've seen movies that start out great, but can't keep the fun rolling through out the entirety of the film. House of Bones will not have that problem. This is some surprisingly good stuff right there, and I'm abundantly impressed by what I'm seeing.
The ending is a downright delightful combination of creepy and hilarious, and a little heavy on the creepy. You may see it coming, though, which isn't exactly the best news, but is still well within tolerances.
The special features include English and Spanish subtitles, some audio options, and trailers for House of Bones, Dead Awake, Wolvesbayne, Quantum Apocalypse and The Boy Next Door.
All in all, this is a pretty impressive little title. Low budget though it may be, it's still got the kind of potent effect that we all like to see in our horror. Edgy, yet funny, it's got plenty to keep most anybody happy.
Deadtime Stories Volume One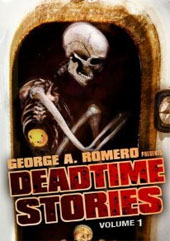 **
DVD
Directed by various
Written by Jeff Monahan
Starring various
NR
2009
76 mins
I have to admit, when I first heard about Deadtime Stories, Volume One, I was terribly eager to catch this one myself. Why not? George Romero and a multi-vignette storyline--what wasn't to like?
Deadtime Stories Volume One gives us a set of three stories, as is the standard for this sort of title. First, we get a woman who will go to any lengths to find her lost husband, but may not like what she finds when she goes looking for him. Next, we get a man who finds what he's been looking for all his life and may not like what he finds when he actually manages to lay hands on his dream, and just to wrap the whole package up, the story of a mother who thinks her son is actually a vampire.
Admittedly, not exactly what I was hoping for from a Romero production. I'd hoped for less homicidal people and more ghosts and zombies, but still, not a terrible lineup. And instead of a wraparound story, which I always prefer these to have, instead we get introductions from Romero himself, which is actually an acceptable substitute as that old man can be creepy as all hell when he's sufficiently inclined, and believe me, today he's sufficiently inclined as evidenced by his performance.
This is actually pretty disappointing stuff. While the second story, Wet, is actually pretty well done if something of a downer, the remaining two stories are weak and poorly put together. The story is that these are the stories Romero chose himself for inclusion in the series, and if that's the case, then the Grand Old Man of horror has well and truly lost it, because in all honesty, this stuff is about seventy percent crap and thirty percent decent movie. This is some truly low-rent material with a few minor twists that, frankly, would almost make me regret it even as a rental. The plain and simple, folks, it's just not very good.
A wraparound story might have helped, but frankly, it doesn't end up doing near as well as it should.
The special features include a variety of audio options, English and Spanish subtitles, and trailers for Shadows and Lies, Blitz, Elephant White, Sacrifice, Trust, and George A. Romero Presents Deadtime Stories Volume One and Volume Two.
All in all, Deadtime Stories Volume One is a sad experience, fraught with disappointment. And while I enjoy three vignette horror titles, this one just couldn't cut the mustard. It's dull, it's poorly made, and it's frankly unworthy of Romero's incredible track record, and a better representation of Romero's flagging career.