July 1st, 2012
Hellraiser: Revelations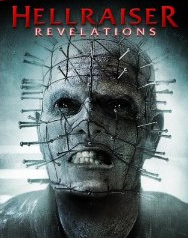 **
DVD
Directed by Victor Garcia
Written by Gary J. Tunnicliffe
Starring Fred Tatasciore, Nick Eversman, Steven Brand
R
2011
75 mins
I have, much like the rest of the civilized world has, come to regard the Hellraiser series as a test of wills more than anything else. What else can a combination of overblown dialogue, nonsensical plots and blood-dripping sets possibly be regarded as? Thus, when I heard that Dimension was releasing a new Hellraiser installment, Hellraiser: Revelations, I was skeptical. It would be far too easy for this to be just like every other. But maybe, just maybe, it could improve on its shaky past. Maybe it could overcome its handicaps and terrible history to provide a worthwhile experience.
And maybe half a dozen 25 year old Japanese girls will show up at my door carrying a hundred pound Snickers bar wrapped in hundred dollar bills.
Hellraiser: Revelations lets us join Steven Craven and Nico Bradley, two friends off on a life-changing trip to Tijuana in a bid to get blasted and laid, not necessarily in that order. When they end up coming in contact with the Lament Configuration, it's straight to hell for the horny duo. But when Steven finds his way home, the passage to hell may be getting a few new participants.
Interestingly, Clive Barker has gone to great lengths to disavow any involvement with the Hellraiser franchise since, pretty much, Hellraiser 2. The loss of Doug Bradley, here replaced by a Darth Vader-style combination of Stephan Smith Collins' body and cartoon / video game voice acting virtuoso Fred Tatasciore's voice, is no small loss either, as despite however godawful the rest of the movie was, Doug Bradley did his level best to be chilling at every turn.
The one thing that's always annoyed me about the Hellraiser franchise in general is that it's CONSTANTLY violating one core tenet of its own canon. Hellraiser 2: Hellbound featured Pinhead and his Cenobites looking to bring the horror of hell to a new victim when Pinhead stops them. The victim in question was an insane girl who worked the puzzle box as her insanity led her to constantly work puzzles. Pinhead forbids the attack, as he put it, because "it is not hands that call us, it is desire". So basically, Hellraiser's own canon says you have to know exactly what the puzzle box is and what it does in order to land the whole "hooks and chains in skin" thing.
This is one of the rare differences, as it seems that Nico's at least somewhat cognizant of it, even if it's not quite what he had in mind. That already puts it a couple steps above the ordinary. But then they go and screw it up again by the end.
The ending...oh me, the ending. A chopped salad, a wreckage of almost Brobdinagian proportions that horrifies and stupifies by its mere existence. I may be slamming down on the hyperbole button like a spastic monkey that's had way too much coffee and crystal meth, but it's certainly not good.
The special features are a handful of deleted scenes and audio options, as well as your choice of English or Spanish subtitles.
All in all, Hellraiser: Revelations is a strange, disturbing, and marginally watchable remake that does a fairly nice job of things until the last ten minutes or so, where it proceeds to drop the ball.