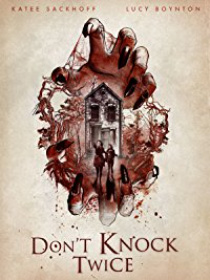 Don't Knock Twice
DVD
Directed by Caradog W. James
Written by Mark Huckerby, Nick Ostler
Starring Katee Sackhoff, Lucy Boynton, Javier Botet
NR
93 mins
2017

I admit to being rather excited about this one, since "Don't Knock Twice" seems to be part of a larger operation, which makes it unique. But can the movie itself live up to the promise of innovation its premise and larger connections establish?

"Don't Knock Twice" follows Jess, a sculptor who has recently invited her daughter Chloe to live with her and Jess' husband Ben. Chloe finds herself uninterested in Jess' offer, but that's when Chloe runs afoul of a local urban legend. Rather than stick around and face down the horror she's unleashed, she takes her estranged mom up on her offer and moves in. But the horror doesn't remain so quietly localized, and pursues Chloe to the end. Now, Chloe and her family need to take down the nightmare unleashed, before it can put an end to the only recently reunited.

There's not only a movie of "Don't Knock Twice," but also a video game. The two seem only vaguely interrelated--the game is mostly a means to show off in VR--but the fact that there's a game adaptation of an indie film is no small surprise.

The movie itself, meanwhile, I give it some credit as it turns out it's an import, and a Welsh import at that. There's quite a bit to like here, which certainly helps matters. Sound scares intermingle wonderfully here with some very atmospheric and tense moments. The monster effects are wonderfully convincing, and there are even a couple of good twists to spark things up.

Granted, you'll need to have a fondness for a certain kind of horror to get very far with this; you'd better be fond of the "urban legends that become too real" subgenre. Still, if you are, it should be a really impressive piece fo work.

The ending isn't exactly the best, but it does wrap things up fairly convincingly and gives us a nifty little twist to cap things off. It comes a bit out of nowhere, granted, but it still does the job well.

Special features include audio options, your choice of English or Spanish subtitles, a making-of featurette, and trailers for "Evolution," "The Autopsy of Jane Doe," "Beyond the Gates," and "Don't Knock Twice."

"Don't Knock Twice" won't be the best horror movie you'll see this year--or most any year--but it will be a reasonably sound piece of work you likely won't regret giving a spin in your own home theater.