October 1st, 2018
Children of the Corn: Runaway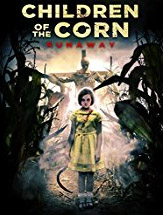 ***
DVD
Directed by John Gulager
Written by Joel Soisson
Starring Marci Miller, Jake Ryan Scott, Sara Moore
NR
82 m
2018
Well, now that we've concluded our run through the latest round of After Dark, it's time to branch off into something new. And with Halloween closing in on us, how about we check out something that quite possibly shouldn't exist? Oh yeah. We've got the latest Children of the Corn sequel on tap, and I never thought I'd write that phrase again. So pop some corn and chance the wrath of He Who Walks Behind the Rows because it's time for Children of the Corn: Runaway.
This time, we join up with a young lady named Ruth who, as so often happens, has just come up pregnant. The problem is that Ruth happens to live among a bunch of child psychopaths out in the midwest. Ruth bugs right out of Gatlin--which you won't actually know about until most of the movie has finished--and starts jumping around from place to place. She lands in Oklahoma, but with something hot on her heels. Now, she has to protect herself and her son from the horrors she knew as a little girl lest whatever it is take her son with it.
I admit, I was surprised by the early going on this one. It set itself up surprisingly well, and started building suspense and mood from go. Some real surprises showed up, which was actually more than I expected. Considering it's been fully eight years since the last one--Children of the Corn: Genesis, no less--there's something of a new perspective in horror, and it's proving somewhat interesting.
Yet at the same time, it watches a lot like the older ones, and that may be a lot of what seems so surprisingly fresh about this. This is a by-the-numbers Children of the Corn sequel, and it's been so long since I've seen a by-the-numbers slasher flick that hadn't already been made 10 or more years ago, it's actually come back around to looking fresh and novel. This is a gravely unnerving sensation.
The ending, meanwhile, is actually a pretty substantial surprise. Let's just put it this way; it all comes surprisingly full-circle. You'll also want to stick around through the credits for another little surprise. I won't give it away, but I think we just got our best look yet at a certain something that, before, was largely an abstraction.
Special features include your choice of English or Spanish subtitles, and one deleted scene with the bizarre title "Found a Rabbit."
If you want to see what horror looked like about 20 years or so ago, then get your hands on a copy of Children of the Corn: Runaway. This is pretty much it, except with much better video quality. Since it hasn't been done in so long, this format takes on a new and surprisingly vivid life. It's still an old retread, but it's a retread of a tire that's been pretty much off the market for decades.