June 1st, 2013
A Cadaver Christmas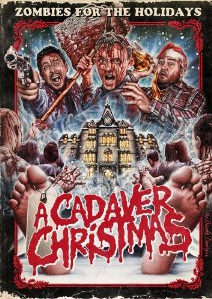 ****
DVD
Directed by Joe Zerull
Written by Daniel Rairdin-Hale, Joe Zerull, Hanlon Smith-Dorsey
Starring Ben Hopkins, Andrew Harvey, Hanlon Smith-Dorsey, Dan Hale
NR
85 mins
2012
So today, we take a look at something that may prove a little unexpected. That's right, kids, it's Christmas in June as your old pal brings you coverage of none other than "A Cadaver Christmas."
"A Cadaver Christmas" is the outlandish and terrifying tale of a janitor, a drunk, a bartender, a cop and the person he's chasing, as well as a student security guard, who find themselves all in the same place at roughly the same time albeit for different reasons. Specifically, our group finds itself in the middle of a cadaver lab, right at the same time that a rogue college professor is about to embark on a twisted experiment to bring the dead back to life. And just in time for Christmas! Needless to say, this is one gift that the rest of humanity could do without, as our ragtag group finds itself taking on a series of horrors the likes of which they never thought they'd see. Can the janitor and his motley crew take down the undead mob? Or will the hams for Christmas dinner be of the long pig variety?
Sure, we've all seen Christmas horror movies before, and we've all seen zombie movies before. But this may well be one of if not the first ever zombie Christmas movies I've ever heard of. And when they ran the snippet from the cartoon "A Hippopota-Christmas Carol," I knew we were in for something almost terrifyingly unique.
On a different note, there's a great bit of video engineering going on here where a DVD actually manages to have a variety of artifacts in the playback that make it look like this was pulled whole and breathing out of an original 1970s print. That's clever, given the content of the film, which itself looks like epic-level drive-in fodder. Indeed, this movie might well make a terrific drive-in epic. This bizarre and delightful combination of violence, comedy and splatter makes for a wonderfully twisted affair that most horror enthusiasts, trash cinema buffs, or people who otherwise can't get enough of the purely weird goings-on that will be contained right here.
The ending may be the only real problem with this one; it's not immediately clear what's going on, but sticking around through the credits will clear up many of the problems and even introduce a clever twist or two that really punches the ending up.
Special features include a behind the scenes featurette, a gag reel, and trailers for "A Cadaver Christmas," "Vamp U," "I Didn't Come Here To Die," "Aaah! Zombies," and "My Stepdad's A Freakin' Vampire." No subtitles to be had here, though, and I personally consider that a shame.
"A Cadaver Christmas" is funny, action packed, and a surprisingly large amount of fun for something so clearly low budget. This is going to be well worth catching, and especially well worth remembering when December rolls around.