August 1st, 2015
Bad Kids Go To Hell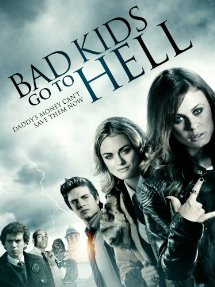 ****
DVD
Directed by Matthew Spradlin
Written by Matthew Spradlin, Barry Wernick
Starring Judd Nelson, Ben Browder, Cameron Deane Stewart 2014
I admit, when I first got a look at "Bad Kids Go To Hell," all I could think was "What, 'Nerve Gas' Craven at it again?" The end result was something much different than I expected, meanwhile, and surprisingly potent, with comedy and tension in almost equal measures.
"Bad Kids Go To Hell" is pretty much what it sounds like, as indeed, the titular kids go to the titular place. Six of them in particular, the spoiled offspring of the societal elite, find themselves serving a Saturday detention session. It's a particularly bad day for detention, what with the storm building outside and all. But things are only going to get worse when Crestview Academy finds itself under an unusual effect...the eight hours of Saturday detention starts off simply, but when a series of odd accidents strikes, with fatalities to follow, the question becomes, just what's causing it all? The answer, however, is something few might have expected.
The first half of this movie writes a very large check in terms of its potential; plots are set up, connections are interlocked, and there's only one body on the floor. There needs to be a whopping great payoff from the second half, and indeed, that second half provides. And then some. Seriously, I haven't seen an affair quite this twisted in a long time. Double cross after double cross after double cross strikes with the regularity of a metronome. It's downright impressive, really; this is complex and powerful stuff, requiring a lot of attention to get the full range. Stick around for the credits; there's extra fun that wraps the whole thing up surprisingly well.
The ending is a mass of surprises, and a perfect capper to an impressive setup. This thing went for broke and it's impossible not to respect it as a result.
Special features here include audio options, an audio commentary track from the director and the producer, a set of galleries--comic book art, a behind the scenes version, and makeup effects--as well as several making-of featurettes, visual effects breakdowns, and trailers for "Bad Kids Go To Hell," "Sassy Pants," "The Baytown Outlaws," "Hick," and "Alter Egos," though only "Bad Kids Go To Hell" will be available from the main menu.
"Bad Kids Go To Hell" is a heavenly horror thriller with some terrific moves made. Highly ambitious and very well assembled, it's going to go in some exciting directions, and with every loose bit of plot a winner with an accompanying payoff, it's going to be a treat to watch.