April 1st, 2014
Apartment 1303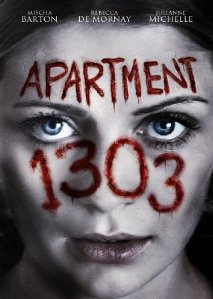 **
DVD
Directed by Michael Taverna
Written by Michael Taverna, Kei Oishi
Starring Mischa Barton, Julianne Michelle, Rebecca De Mornay
R
85 mins
2013
One of the great things about covering movies here is I get the chance to catch up on stuff I've been meaning to see, yet haven't yet. And "Apartment 1303"'s been on my list to check out for some time, but sadly, this is one open house I wish I'd skipped.
"Apartment 1303" follows Janet Slate, a young lady who's very happy to hear that her rental application has gone through at Detroit's Lake View Residence, and she'll be getting out from under her alcoholic mother Maddie's thumb. But it won't be long before Janet discovers there may be a problem with the apartment, the kind that leaves her dead. She's not the first one to wind up dead in that apartment, so Janet's sister Lara takes up residence there in a bid to find out what happened. And when she finds out, it may well be that she ends up next.
It's a bit of a spoiler, but I've always loved a good ghost story, and one thing about Japanese horror-this is supposedly a remake of the 2007 release of the same name-is that it usually puts on a good and creepy ghost story. The Koreans also do a good job with that, and so did the Chinese until their culture banned horror movies altogether. So when you get an American remake of a Japanese horror title, a lot of the time what you get is a slightly less subtle version of the original Japanese. This time, sadly, that's not quite the case.
"Apartment 1303" is easily one of the dullest ghost stories I've ever seen. Really. When it's not boring it's melodramatic, sufficiently so that I started looking for Tyler Perry's name on this wreck. There are some spectacular moments of haunting action in here, and by the end things will start to get exciting. But it's going to take quite a slog to get to the exciting stuff, and frankly, it's a matter of too little, too late. Still though, the last 15 minutes of this one are quite the doozy indeed, even if there's a whole lot of sluggish nonsense to get through to get there.
Special features include your choice of English or French language tracks and trailers for "Darkroom" and "Jack the Reaper,"" though neither will be available from the main menu.
"Apartment 1303" could have been much better than it was, with a little extra spice thrown into the first hour. The last 15 minutes of this is some pretty exciting stuff, but it would have been nicer to have the first hour as exciting.