By Tom Waters
May 1st, 2002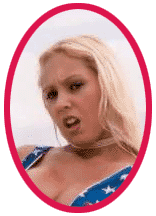 Adult film star, Hustler Busty Beauty and feature entertainer Mary Carey is not just another dumb blonde. In fact, she's very bright and funny and full of charm. (The other departments are certainly not lacking either.) Last week, I had the distinct pleasure of interviewing Mary on her cell phone while she was en route with her bodyguard to California, which she adores but would rather visit...frequently. At 21, she's got a very attractive head on her shoulders. And very attractive...well, you get the picture.
She's currently attending school, she's been in about five thousand different films and cable specials including HBO's acclaimed 'Real Sex' series (one of the few shows that house husbands can get away with watching when they're piss drunk at three in the morning), and she personally manages, photographs, and maintains her own fan web site, "www.MaryCarey.com". Net-spankers take note! (I can wait right here whilst you write it down.) She's a bright kid who grew up in Florida, is about 5 foot nine, a very high D cup, and she seems to be enjoying quite a girl on girl renaissance (although she did theorize with me over the possible bisexuality of all women, and wouldn't it be a beautiful world if that were true.) That's the header, and here's the rest of the sordid tale:
Tom: Which film are you proudest of?
Mary: There's one that's coming out called "Double D Dolls". It was directed by Michael Spinelli. You can order it on RainVideo.com.
Tom: Vivid prides themselves on female directors. Would you ever consider directing or producing down the road?
Mary: Yeah, I think so. I want to own my own film company, like Jill Kelly. Jill has a really great company right now with contract actors and she's doing very well.
Tom: What was your first impression upon entering Howard Stern's radio studio?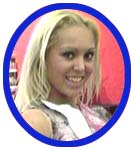 Mary: The actual show is a lot slower than it looks on TV. All of the cameras are placed in the ceiling looking down on you. During the commercial break I talked to Robin and I was so close to Howard that I could've reached my leg out and touched his console.
Tom: What direction do you see the industry taking in the next ten years?
Mary:  I think it's going to become more and more mainstream.
Tom: Which came first: dancing, magazines, or film?
Mary: Actually, I got started on the Internet. I did a web site out in Florida for a while, then I went into films, and everything else fell into place!
Tom: Asia Carrera went on to fund an animal shelter, Dyanna Lauren directs, and Ashlyn Gere is working her way into legitimate film. What do you see yourself doing when you retire?
Mary: I'd like to move into more mainstream stuff. I'd love to have my own MTV show, I think I'd make a really great VJ.
Tom: What do you do with what little free time you have?
Mary: Hmmm....I don't know. I take pictures for my web site, answer a lot of fan email (you can email Mary directly on her site), play with my dogs, and I work out a lot. Plus I have college classes.
Tom: How much is acting and how much is sincere during filming?
Mary: It depends...I was in a movie a while back and the one girl was very sincere and the other one was disgusting. She didn't speak english and didn't seem to be into it. It depends.
Tom: Which actors and actresses have you enjoyed working with?
Mary: I enjoyed Tonya Danielle. We look a lot alike and she's gorgeous, so maybe that had something to do with it. And Ron Jeremy. He's really great, he's very funny.
Tom: What's the longest relationship you've ever had?
Mary: I'm only 21, but when I was 19 I dated a guy at college for six months. This guy I was friends with. I ended up cheating on him, but he never found out. I guess I'll have a better answer when I get older.
Tom: Are you a heart-breaker, a romantic, or a predator?
Mary: Definitely a heart-breaker. That's what I am.
Tom: What do you think of the Britney Spears look-alikes that have been popping up like rabbits in the exotic clubs?
Mary: I've never seen one, but if I find one I'll video tape her. That'd be great for my web site. I love Britney Spears, but she needs to get bigger boobs.
Tom: What's the last thing a fan did for you that made you smile?
Mary: A while ago, in Ohio, this guy emailed to say that he couldn't make it to my appearance for some reason or another and he ended up sending me two dozen roses. That was very sweet and yes, it made me smile. I thought that was so cute.
Tom: Do you like piercings, tattoos, or both?
Mary: On girls, I like belly button rings. I have no piercings, but maybe I'll get a tattoo when I'm a lot older, like 40. I love Pam Anderson's tribal band tattoo.
Tom: Do blondes have an advantage in the industry?
Mary: I think not just because there's so many of them. Out in LA, it's all blondes who come out and get big implants. I do well because I have big tits. Blondes do make more money in the business, I guess.
Tom: Are the AVN (Adult Video News) awards more like the Oscars, a high school reunion, or a roast?
Mary: High School Reunion. I've never been to my actual high school reunion, but my first one is coming up and I'm really looking forward to it.
Tom: Elvis, Frank Sinatra, James Brown, or Johnny Cash?
Mary: Elvis. Any Elvis is cool. He partied and sang his heart out, so he's all right by me.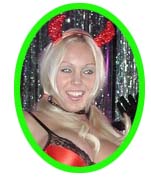 Tom: Looks, money, or charm?
Mary: Well......(laughs) I'd have to say charm. I have money, and looks fade. But charm is more important.
Tom: What stunts do you pull off while performing?
Mary: Wax, snakes, pigtails, etc. I was a ballet dancer when I was younger, so I like to do a ballet set with the slippers and the tutu, I do the little girl thing, and lotion. You don't want me to give everything away, do you?
Many thanks to Mary Carey, F.e.v. Inc, and the always entertaining, accommodating, and entrepreneurial Mark Whipple for their cooperation, friendly demeanor, and ability to prioritize in helping to put this interview together.