Interview with Honey Lauren
By Wil Forbis

November 1, 2011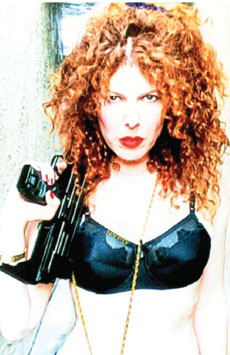 Going on 10 years ago, this esteemed website developed an interest in the work of cult independent filmmaker Doris Wishman. Wishman had, at that point, just released a film, "Satan Was a Lady," and I interviewed the movie's star, Honey Lauren. Lauren, a working actress, had a collection of credits to her name including roles in Francis Ford Coppola's "Dracula" and "Men Cry Bullets," a twisted feature costarring Jeri Ryan of Star Trek fame.
In the decade since, the advent of digital media -- downloadable movies, music and books --- has radically altered the entertainment landscape. Lauren is still thoroughly ensconced in the moviemaking biz, operating not only as an actress, but as a writer and director. Her latest project, the short, "DOT GOT SHOT," stars Lauren (who also co-directed the film with Carlos Ramos Jr.) and has been making the rounds of film festivals, winning awards for BEST ACTION SHORT at the Atlanta Underground Film Festival and BEST CRIME SHORT at the Pollygrind Film Festival in Las Vegas.
Recently, the time seemed right to again query Honey Lauren about the business of film -- the craziest business known to man.
What have you been doing with yourself? Keeping busy?
I have been incredibly busy over the last several years. I've written several scripts and am now a published and produced writer. "Stranged. A Grim Fairy Tale", which at that time was called GIRLWOLF, was a finalist in the Austin Screenwriting competition. Soon after that a production company put an offer out to Abel Ferrara to direct. I went to NY and met with Abel for four days which was an amazing trip.
Some of my other scripts have placed in screenwriting competitions as well. Most have been optioned. I have written for some name directors and have also written for television.
Regarding DOT GOT SHOT: this short is a derivative of a feature I wrote, I SHOT DOT, which had a name director and music people attached. Presently with the success of the short, we are working to put the I SHOT DOT film into production.
On the acting front, I have done many films and TV shows, and commercials as well. I just finished a feature called PARANORMAL ADOPTION directed by Carl Watts. Did a commercial for Zyrtec and Kia last month. pretty fun.
In the last 15 years, we've seen the cost of producing and distributing music radically shrink. The result of this is that it's much easier for musicians to get their product out there, but it's also led to much smaller payouts to musicians. Is the ever digitizing world of film about to face the same challenges? Will independent filmmakers be able to support themselves in the coming era?
While it is radically cheaper to make movies, supporting oneself may be MORE difficult. At one time, there WAS money out there and are not just studio money. Indie producers and filmmakers were able to make deals. (This was when we were all still shooting on film.) And the reality was that we got paid. Producers got paid and there was business. Things were great. Then boom, suddenly the market was oversaturated with what we then called VIDEOS. Budgets started getting tighter. There was too much product for buyers. Slowly these indie filmmakers and producers had to zig and zag to find a way to stay afloat. This was all pre internet, which really wasn't that long ago.
Fast forward to today. Yes, the films are cheaper to make, but you still need money to them. You can invest in an HD camera package pretty easily but all the aspects of filmmaking need to be met in order to complete your film (and make it look and sound good/great.)
I suppose if you had your own camera package and the know-how to do your own editing and color correcting and sound design, then you might be able to make a really inexpensive film, get your money back and turn a profit.
Do you have any sense whether Hollywood producers are feeling some heat? Are they anticipating changes to their business model and if so, do they have ideas about how to survive?
I honestly believe that for many Hollywood producers the ship has sailed. There are some movies out there being made, but it has literally been years since anyone has seen any real funding that wasn't private money or just honkin' studio money which is saved for the A list actors/ directors. Many of the smaller indie producers are no longer doing it, or are turning to reality TV and Internet production. Some of the more clever movies I've seen seen lately are reality films, aka the mock dramas or mockumentaries. In fact, a good mock drama can be done very, very cheap --- just shoot it as documentary. No need to worry about lighting, color correcting etc. Only a few actors and practically zero crew. Cut it on your laptop with a compelling story and boom, you got an interesting film. And, of course, there's always "mumblecore," the latest and perhaps only American independent film movement we have EVER had. Again, another way to shoot cheap. Cheap. Cheap.
A business model that has been adopted by many filmmakers/ producers is something we call the "Webisode". Let me give you an example. I currently am the HOST for a show called FIT ROCK that is produced Jay Hammett and BODTV. I have done about 6 or 7 segments. I am a rock n roll VJ essentially and the producers are all fitness people. They get their money by "branding" which is essentially product placement. The end goal is to sell FIT ROCK to TV stations but alternately they can always use them as webisodes --- short 5 minute segments that make their money through advertising. From a filmmaker's perspective, you can break down an entire script into five minute segments, or think of episodic television with five minute episodes. A great example of this is on Striketv.com
As a filmmaker, do you have a concern about piracy --- maybe not now, but in the future? Do you worry about your shorts or even full-length projects ending up downloadable online?
Piracy has actually been as issue for years. I don't know if this is entirely true but I remember years ago hearing about an issue with foreign distribution in Asia. I had a foreign sales agent tell me that the Asian market (which is HUGE) was virtually no longer in existence because of the piracy issues.
In regards to short films, we have secure vimeo accounts but we really don't want some freak to upload it on You tube. That wouldn't be too cool.
The short film is a curious form because, while shorts get viewed, they rarely end up on the big screen of neighborhood theaters where most people watch movies. I think it's fair to say that the short film tends to be more of a stepping stone than an end product.
The short film format is definitely a steeping stone/calling card. As I mentioned earlier in the case of DOT GOT SHOT, I SHOT DOT is the feature version. Because the short won an award early out on the festival circuit, (Our second festival, ATLANTA UNDERGROUND FILM FESTIVAL, Best Action Short), we have garnered interest in the feature version.
Many features have started out as shorts. I believe Napoleon Dynamite, I STAND ALONE, (My fave director Gaspar Noé) and DEBS to name a few.
How do you gauge the "success" of a short? What does it need to achieve?
I imagine it's different for everyone. There are distributers that take shorts (although there's little money to be made.) You can distribute your short on AMAZON (but it may need to be 20 minutes or more.) For some people just getting into a film festival is a huge success since it is rather difficult. Not every film is a "festival film" and in terms of shorts, well, everyone and their 10 year old sister has a short and there are only so many slots. It's very political in the big festivals as well.
I know you've been screening DOT GOT SHOT at numerous film festivals. How key is traveling this festival circuit to the success of a film?
I honestly don't know. In my experience, over years of going to festivals with films, I've gotten the impression that being present can be helpful. But I have seen it it backfire; I was traveling with a director who was unlikable and unkind and that didn't go over so well.
As an actress, you've done a lot of crime noir roles, and horror, and dramas -- is there any genre you'd like to try out that you haven't already had a chance to perform in?
I pretty much love all the genres. I realize I play a lot of insane people, sociopaths, psychopaths and mentally ill. I certainly have done my share of dramadies or, in my case, traumadies... (I've decided everything IS trauma). But I suppose to be in a real comedy again, not a parody, but true comedic role, would be pretty awesome. All that crying does give me a headache.
Our paths originally crossed because of our mutual interest in the work of independent filmmaker Doris Wishman. You, of course, starred in her 2001 film, "Satan Was a Lady." Have you found your own filmmaking efforts influenced by Doris?
Doris and I had one thing in common when it came to making films: we were both TITLE QUEENS. We wrote our films around our titles. Before she passed, she wanted me to star in the next 'Title' she wanted to make... JOE'S BREASTAURANT. God Bless Doris.