A loud ring from the phone in the next room rudely interrupts his pleasing thoughts, promptly removing his hand from his groin and the cigarette from his mouth he runs to beat the machine. It's some Aussie girl named Semone Maksimovic, calling to do an interview, FUCK! That's right he's got three hours worth of interviews lined up today, one after the other and no time to get out of this increasingly uncomfortable pair of shorts!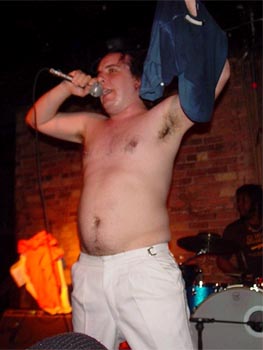 You may have seen him on his first visit to Australia, he managed to be spotted just about everywhere, from his appearance onstage at The Metro in Sydney when he was given the grievous task of announcing to a sold out crowd that The Yeah Yeah Yeahs will not be returning to the stage again, due to the severity of Karen O's fall from the stage head-first, not even halfway through the show. If you missed him there, then you may have ran into him the following night at The Judgie as he tried to hit on your girlfriend or even as he was tumbling down the stairs followed by a security guard later that night "Yeah, I got thrown down that entire staircase by a shitty bouncer, so that kinda took some of the fun out of Sydney for me" states Tillman matter of factly, before owning up to his actions prior to the incident "I'll only say that I was using the bathroom stall and a bouncer looked over the top of it while I was 'taking a piss'" giggles Tillman in an insinuating manner "That's like an invasion of privacy! If they did that here in the US, that club could totally be closed down if I sued them!" he laughs evilly.
These appearances still aren't ringing any bells for you? Then maybe you can hazily recall an American guy spinning some killer tunes for the Livid aftermath at The Taxi Club or roaming the streets of Melbourne looking for some talent to take back to the hotel. "I had a great time in Melbourne last time I was out, I spent more time there than in Sydney, so I got to know it really well. I found a lot of late night activities and that's kinda how I am, I like to sleep all day and party all night long. Looking back, I think Melbourne to me was like a little New York while Sydney is kind of like the Los Angeles of Australia" muses Sean as he lights up his second cigarette of the morning.
Since his rapid rise from the unknown a few years ago, as he took on the alter ego Har Mar Superstar (named after a dilapidated old strip mall in Minnesota) the 27 year old has been both embraced and ridiculed by the media of the world, as they were divided into 'lovers' or 'haters' of the man's work. His music has been hard to classify in any particular genre. "I was bored by indie bands who don't put on any kind of show whatsoever and all writing the same songs. So I just wanted to make something that was fun to watch, that was more along the lines of the music I listen to, like Stevie Wonder, Prince and Michael Jackson."
He's often seen on Rage in the later hours of the night (unless you count his recent guest appearance in Ben Lee's clip), crooning out rnb/ soul cuts (a la Lionel Richie) over a drum machine, synth or piano, strutting his stuff in tight white pants, a fitted satin shirt or even riding a blow up toy in his underwear, sporting a boganish 'pimp mo' topped with a borderline mullet. How can so many people think this guy's cool? I mean he's totally bogan, but there's just some particular essence he seems to posses that has us all captivated in the same way Spod did, just don't mention our local prince of pink to Tillmann "Agh! This radio station [Triple J] tried to get he and I together at Livid to go on air and talk about each other's music. I declined because I didn't know shit about the guy and didn't really want to!" he snarls.
Har Mar's last album 'The Handler' saw the self-confessed ladies man et al, bringing us a fresh new matured sound, shedding the vocoders and drum machines which were replaced by a new live band which will be seen at his upcoming shows "The spirit is still pretty much the same, but now onstage I have a drummer and bass player for this tour. Tony the guitarist from The Distillers is playing bass for me, so now it's just a little more musical and guitar-y and a little bit more fun for me to play with other people up there with me."
The album of course features a whole host of notable guest appearances from the likes of The Yeah Yeah Yeahs, Pete Thomas, Michael Bland and Northern State and has erased most of the haters' 'gimmick' labels that were first slung his way. Proving himself as a real musician in his own right, which is exactly what he aimed to do "I've never been uptight about making an album- but I had an idea of where I wanted to go this time round. So I just wrote and recorded as I went. I had nothing at all when I went into the studio and then when I came out three months later I had an album that I'm very proud of" he admits with a shadow of a smile.
His next trip to the land down under will see a more matured Stillmann, but don't think that goes for his womanising ways: it's still advised that you keep your girlfriends firmly in your grip when he hits your town. But don't be expecting any more DJ stints from the Superstar. "I quit that shit. I got sick of being told what to play, especially when I'm djing or making mix tapes, it's got nothing to do with anyone else. But there's a lot of shitheads out there that think they have a say, they just take themselves way too seriously, so I told them all to fuck off!"