Frank De Lima is still called Hawaii's prince of ethnic humor-after 28 years. In January, one Honolulu columnist put De Lima on a list of five things he wants to see more of in the year 2004. "His show is a good antidote for the daily bombast," wrote David Shapiro. After laughing myself silly at one of his recent performances at Waikiki's Palace Showroom, I made a date for lunch with Mr. De Lima to discuss what makes Hawaii's comedy stand out from U.S. mainland humor and to learn how he has managed to stay on top for almost three decades in Honolulu's competitive entertainment business.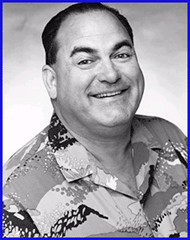 We met at the Wisteria Restaurant, an unassuming one-story building at King and Piikoi Streets where generations of local families have been eating Japanese and American meals for at least 50 years. De Lima celebrated his 25th anniversary in show business here in 2000. He conducts business, interviews, and casual meetings with friends in the dimly lit backroom bar. Before lunch arrived, I was comfortable calling him by his first name. He ordered saimin, and I chose chicken and tofu on rice.
Deborah: You have earned your reputation in ethnic humor for good reason because you are one mixed plate as kama'ainas, or longtime residents in Hawaii, like to say. What makes up your personal ethnic background?
Frank: I'm Hawaiian, plus Chinese, English, Spanish, Scottish, Irish, and of course Pawdagee (pidgin for Portuguese).
Deborah: How far back does your ancestry go in the islands?
Frank: Well, my dad is Hawaiian. He goes back to the uncle of Hawaii's first king, Kamehameha, and the king's uncle was my great, great, great, great grandpa. Eight generations ago my Chinese ancestors came here. And a young man from the first generation married a Hawaiian, and several generations later my grandma married an Englishman named Wilcox..
Deborah: When did the Portuguese side of your family get to the islands?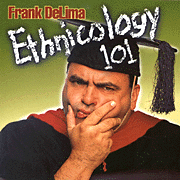 Frank: I think it was my great grandpa on my father's side who came from Portugal. And on my mother's side I think it was a great, great Portuguese grandpa that came. My mom is also Irish, Scotch, English, and Spanish. Her father was Irish, Scotch, and English, and her mother was Spanish and Portuguese. And that's the mixture in my family ancestry. I'm one-eighth Hawaiian, one-eighth Irish, and one-half Portuguese. This leaves me with one-quarter more. Is that correct? And that would be English, Scottish, Spanish, and Chinese.
Deborah: And over the years, you've developed personalities that represent every culture group in Hawaii's early modern history as well as some unforgettable characters from our contemporary times. So what makes Hawaiian humor so distinctive?
Frank: One reason is Hawaii is small. And the people who came here originally lived in camps on the sugar plantations. There were Korean camps, for example, in Koloa on the island of Kauai. And the Okinawan-Japanese community lived mostly on Oahu. The Japanese from Japan also settled on Oahu. Actually the Japanese spread to all the islands. The Portuguese lived on the mauka (mountain-side) slopes like Punchbowl on Oahu, Honokaa on the Big Island, and Kaleheo on Kauai. They came from Madeira and Azores Islands, Portuguese possessions in the south Atlantic, and that's why they chose to live on the Hawaiian mountain slopes. After a while the men became ranchers and cowboys. The Okinawans started as pig farmers and vegetable distributors and ended up prominent in business. A lot of the Japanese went to college because their parents saved money to pay for their education. And so they ended up being politicians, lawyers, and doctors. And before them, the Chinese followed a similar route into the professions.
Deborah: Going back to the beginning of these ethnic communities in Hawaii, how did these immigrants communicate-in what language?
Frank: They had to speak English. By the second generation of workers, it was mandatory because English was the common language. Everyone spoke with an accent derived from the language of the home country, and this changed the English words. That's how pidgin evolved. They clipped off endings. They cut off -ing. Goin' instead of going. They left off "and" and "the." The t-sound was softened to d, as in da kine.
Deborah: I've lived in Hawaii for as long as you've been performing. I still don't know what da kine means.
Frank: Da kine mean that kind of-that kind of person, that kind of thing, that kind of restaurant. Whenever a local person can't think of the exact word, he simply says da kine, and if he's in conversation with another local person, the meaning is understood.
Deborah: And you always play off the haole in your songs and in your shows. At the show I attended, I was seated across the only haole couple in the room that I could see, and you got the man on stage right at the beginning of your performance while you narrated and sang about how the first haoles landed in the islands beginning with Captain Cook. You have a reputation for involving members from the audience in your skits. How do you know how to pick them?
Frank: I need that. And there are some hilarious responses. I never know what someone is going to say. Recently I did a private gig. We had a send-off at Hickam Air Force Base for members of Hawaii's National Guard going to Iraq. I was asked to come in and entertain for half an hour. There were 27 guys from Ohio, and the rest were all locals. Their wives and girl friends were also there. And so I said: "I hear we have some fresh white meat in the audience, 27 of them from Ohio." And one of them stood up, and cheered "Yaaay!" And I pointed to him, and said: "You, come." He came up to the stage, but he was clever. I said to him, "Repeat after me, Book, Book."
Deborah: What does Book, Book mean exactly?
Frank: It means Filipino in Pidgin English. But in Filipino it means termite. And in the plantation days, it got interpreted as a person from The Philippines. Pake is Chinese. So I said to him, "Repeat after me, pake, and he said butter." So he was real quick. Anyway, I just have a feeling about who to call on in the audience.
Deborah: Before we leave the intrepid haoles in your audiences, will you define haole for Acid Logic readers who haven't had the on-stage pleasure of your company?
Frank: Haole refers to anyone white in Hawaii. It doesn't mean visitor. It means white person. An African American cannot be a haole. A Chinese visiting from China is not a haole. Haole simply means white person.
Deborah: But in terms of Hawaii's ethnic history, isn't a Portuguese a haole?
Frank: No. They never considered themselves in the haole category, but they were. We in Hawaii don't call them haoles. We call them Pawdagees.
Deborah: How come they're separate?
Frank: Because they were second in command after the white people on the plantations. And they always referred to themselves as Pawdagees. They were under the haoles but above everyone else. They were the luna, the paniolo, the guys on horseback who made everyone work. And with someone strict over them-some of them were really mean-the workers made jokes about them. That's why a high percentage of the jokes in Hawaii are directed towards the Portuguese community.
Deborah: Can you offhand, in the middle of slurping your luncheon saimin-and that reminds me of one of my favorites from your "Silva Anniversary" CD.
Frank: (singing)
Don't sneeze when you eat saimin.
Deborah: (joining in)
Don't sneeze when you eat saimin.
Frank: (singing)
Cause the soup's gonna go all over your clothes and the noodles are gonna come out of your nose.
Deborah: Can you tell me one of your favorite Pawdagee jokes?
Frank: Well, the one I use in my show is my favorite. Three men are stuck on the 17th floor of a burning building: a Chinese guy, a Filipino, and a Pawdagee. A fire truck races to the scene. WHIRRR (sound of siren) All the firemen are big Hawaiians. They step off the truck, and the truck goes up three feet. They pull out a big round net. And the Chinese on the 17th floor yells "Halp! Halp!" That's where I use the audience again, if you notice. I get a Chinese person to be the one yelling for help. And the Hawaiian firemen yell: "Come on Pake, jump!" He jumps and before he hits the net, the Hawaiians pull the net away. SPLAT! And the Hawaiians say, "That's what you get for changing the prices every two minutes." (Because in Hawaii-the Jews in New York get teased for being thrifty-in Hawaii the Chinese are the ones.) The Filipino is next. He's on the 17th floor and yelling "Helup! Helup!" The Hawaiian firemen below yell, "Come on Book, Book, jump. He jumps and again the Hawaiians pull the net away. SPLAT! And the Hawaiians say, "That's what you get for eating Spot." (Because in the plantation days, the Filipinos ate dog. They were known for that.) And the Pawdagee guy yells, "Halp! I scared!" And the Hawaiians yell back, "Come on, Pawdagee, jump." And he yells down, "No way! I saw what you did to the other two guys. No way you goin' pull the net away from me. Put the net down on the ground." (Pause for my laughter, which didn't come until I read my notes later.) That's my favorite Pawdagee joke.
Deborah: The word on Waikiki's streets is that your first comic performance was at a family Christmas party. At age two, you sang "I Saw Mommy Kissing Santa Claus." Who were your favorite comedians when you were growing up?
Frank: Red Skelton was my favorite. And Jerry Lewis, and I liked Lucille Ball in her "I Love Lucy" TV shows.
Deborah: You came from a large Portuguese family with strong Roman Catholic values, and you grew up in the integrated neighborhood of Pauoa Valley in Honolulu. How did you get your start in the entertainment business?
Frank: Six months after I left the seminary, I was performing comedy skits professionally. Eleven months later I was in a car accident driving home after a performance. It was a rainy night. I was in traction in the hospital for six weeks. With support from my friends and several visits from Honolulu's Roman Catholic bishop at the time, I began to get myself back together.
Deborah: And you decided to build your career as a "minister of laughter," another accolade you have earned from Honolulu reviewers of your shows over the years. Some of your best material comes from your performances at the now defunct Noodle Shop. Which of your alter egos have been the most popular with audiences?
Frank: Well, certainly Lucille, the takeoff on Kenny Rogers' big hit from the '80s.
Deborah: And you still get a rousing response from audiences in 2004. At the show I attended, we were all singing the popular refrain that spoofs "the original Lucille."
Frank: (reciting)
Wha! Lucille, you gonna leave me now?
The kids never eat yet!
Mango season not pau.
Deborah: And there's Imelda of Marcos fame, Mary Tunta, and Tita Turner making your female impersonations as memorable as Harvey Fierstein's Edna Trumblad in the current hit musical Hairspray on Broadway.
Frank:
And there's "Big Time Sumo".
Deborah: In this routine, you stomp on stage in a body suit wrapped around your ample frame wearing a kondoshi, which can only be described as a giant-sized diaper designed for the huge proportions of Japan's sumo wrestlers.
Frank: (reciting)
I practice sumo 16 hour a day.
My sparring partner, a 57 Chevrolet.
I come from Osaka.
I weighs three tons,
One ton in the belly
and two in the bun.
Deborah: And my favorite is still "Bishop Estate Trustee." You devised a local version of Gilbert and Sullivan's satirical "I am the ruler of the Queen's Navee" song from "H.M.S. Pinafore." Did you create this in the late '90s when Hawaii's largest landowner was undergoing scrutiny here and on the mainland regarding the Bishop Trust's mismanagement of funds?
Frank: Yes, in the middle of it all.
Deborah: Did you get any flack from the trustees?
Frank: No, they all know me. They know I'm a comedian. It was a very clever song. (singing)
When I was a boy, I lived next door to the niece of the wife of the governor.
She had no friends that I could see so I smiled at her when she smiled at me.
I smiled so much they rewarded me by making me a Bishop Estate trustee.
Deborah: You've made 13 CDs, and 11 of them received Hoku awards from the Hawaiian Academy of Recording Artist and three videos-the next best way to enjoy your humor if you can't be in the audience of a live show. Where do your skit ideas come from?
Frank: I collaborated with Patrick Downes for a lot of my material. And some people say sitting on the toilet is one of the most creative times. I get so many ideas just sitting there. Some people read newspapers. I don't. I just sit there and then I start thinking. That's where I got the idea for "Big Time Sumo." And I developed it into several skits.
Deborah: And last, and by no means least, there is a generation of kids out there, in Hawaii and on the mainland that fondly remember your school visits. How was your School Enrichment Program born?
Frank: I began the school program 24 years ago on Maui. I had recuperated from my car accident, and I started to travel to the neighbor islands with my show. In the month of May I made the island circuit at different resort hotels. I took a month off from performances at the Noodle Shop and I traveled from island to island. I promoted my shows on local radio and at the shopping malls. And since I had free time in the afternoons, I thought maybe I could visit the schools and put my seminary education to good use. So on Maui I talked to my cousin Charlie Arruda (banquet manager at Maui Beach Hotel), and he in turn got in touch with the principal of Kahului Elementary, Mr. Kunio Kobayashi, who told me to come right over. By the time I arrived, the stage and sound system was ready and 800 kids were seated on the lawn waiting for me. So I went up on stage and adlibbed my way through a half hour from some of my programs, and it was fun. The rest of the afternoon I went from classroom to classroom signing autographs and telling stories. I enjoyed myself so much.
Deborah: How did you expand the visits?
Frank: The following year I went back. By then some 15 schools wanted me to visit because Mr. Kobayashi had spread the word. In a matter of four years, my program became island wide. I visited 225 schools a year-public and private schools from kindergarten to the 8th grade. Four years ago because of rising costs, Hawaii's poor economy and dwindling interest in nightclub acts, I thought I would have to stop the school program that I was funding on my own. So I opened a non-profit organization with a board of directors. Chevron Dealers of Hawaii helped with funding and former state senator, Ann Kobayashi, along with others made sure my program would continue. Three mornings a week I visit the kids bringing with me four simple messages of treating others with respect, studying hard, reading, and learning to laugh and not taking yourself too seriously. For the older children, from grades 4 to 8, my theme this year is forgiveness.
Deborah: In addition to continuing the Student Enrichment Program, have you got any special dreams for the future?
Frank: Yes. I would like to open my own little club called Frank's Place. I would hang all my costumes on the wall and display my framed write-ups about my shows. I would hire a Portuguese lady with authentic recipes that have been passed down through her family to do the cooking. And I would serve Pawdagee soup and malasadas.
Deborah: One last question. If you had to describe Hawaii's distinct brand of humor in 100 words or less, how would you do it?
Frank: Hawaii's ethnic humor developed in the plantation days when people had humility, which they needed because if they weren't humble, the pride everybody has could have turned into arrogance and hatred and violence. Instead it turned into humor. And there was a lesson that went out through the years. Most people can handle Hawaii's humor, not everybody. But during the plantation days, most people could find humor in the different ethnic behaviors, and that's why there was peace.
Deborah: That's 78 words. Mahalo nui loa, thank you very much, Mr. Frank Wilcox Napuakekaulike De Lima. * You are a comedian blessed with many ethnic tongues and gifted with making us laugh at human foibles in the Hawaiian way. This interview is.
PAU!
*Contact Mr. De Lima at frankdelima@hotmail.com or phone/fax 808-521-4529 for ways to donate to his Student Enrichment Program or to purchase De Lima CDs and DVDs.
What do you think? Leave your comments on the Guestbook!