Die Laughing: An account of the 2002 Zaak Fresh Comedy Tour
By Zaak Fresh
July 16th, 2002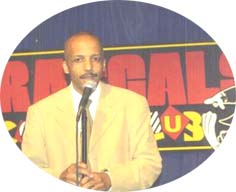 Riding the freeways in my spiffy, new RSX type S, pursuing my version of comedic, artistic crapola is not as easy as it seems on television. Nor would it be worth it if it were. There's not much funny about being a comedian. The crowd may be laughing, but the conscientious performer rarely is. The artist's life has so few rewards. Phyllis Diller was asked, " What drives a person to get on stage and tell jokes? " Instead of answering the question in positive terms, compiling the good with show business, she smiled, " Don't you see, that (being a comedian) is what makes it so humiliating. "

As an up and coming comedian I hover with the cross-winds of uncertainty; only to be lifted, encouraged, by updrafts of hope and promise that I am convinced await me just past the endless array of Men's Room, Cheap Gas Here and Last Exit Before You're Lost roadway warning signs. It seems as though all those thousands of miles have left me 'filled' with something more aromatic. Excuse me while I find that elusive Men's Room.

In the comedian's dictionary under persistence there has to be a photograph of me. Or at least, a moron who looks like me. Strangely, the more I hear the word no, the greater the intensity to succeed. Ouch, my aching back. It must be the arthritis. At my age, everything is stiffening except that which I want to. The heck with it. If not for the dream, reality would be unlivable. That which lay in wait at the end of my rainbow is more enticing than the next breath taken. Those who say, " I never had a chance " never took a chance. If a person can look up they can get up. And today I've got my Acura up and ready to roll. Don't feel sorry for me. I do that to the point of excellence.

Who in their right mind thinks they can make another person laugh? The task I undertake on a weekly basis.

Comedy is rooted in everyone's emotional survival fabric. People need to laugh, More than ever. There is nothing quite like being able to find refuge within ones own sense of humor for momentary escape. With this ambitious comedic undertaking I settled on taking to the highways, navigating along pothole-filled roads, attendant's who do not speak any recognizable language, traffic reports that accurately describe some road just not the one I'm on, to secure my rightful place in the comedy time capsule. Mile after lonely mile is the best time to practice and develop new material. Time spent on the road should be constructive. Aimless gazing through the window hardly lends itself to productivity. Talking on the phone has its place, but fails miserably when compared to hours better spent. Wait a minute, my cell phone beckons.

That was my Mom calling. She wanted to know where I was going. I told here that I'm on my way to Rascals Comedy Club in West Orange, New Jersey. Then to Gotham Comedy Club in New York's west side. Tomorrow I'll blaze the New York State Thruway, past problematic roadside rock blasting, into upstate New York to Toronto, Canada to the internationally famous Yuk Yuk's Comedy Club.

* * *
It is Amateur Night Monday. Most comedy clubs of merit require that the comedian bring in a minimum number of paying guests. This place demands the highest number of paid attendees. Ten. Since the mid-70's Rascals Comedy Club sits perched with its noticeable sign and historic reputation beaming in all directions. It has two locations in New Jersey with a third club in Arizona. With my car's music turned down I signaled for a left turn into the slightly elevated parking lot; entering with caution because the front spoiler on the RSX barely misses the raised asphalt. If only the driver were so as skilled when not  behind a steering wheel. Cause for concern? No more than usual.

Once inside the club I endeavored to locate the outgoing Gonzo. He is a large man who has operated this night for Rascals for over fifteen years and counting. "Gonz!" I called. He waved back with a wide smile, walking to me. We began chatting about the best position for me to go on stage this night. We agree on fifth. I relaxed, then looked for a quiet place to re-read tonight's routine. " Can I get you something? " asks the pretty waitress. Looking at what she's not wearing on that tight, athletic, body made my mind wander. " Forget it. I'm married " she snapped. A mind reader. I wanted to ask her if she had a booking agent representing her, but I had other problems. " Thank you. No. I'm performing tonight. " I said. She left me sorry I could not help her tips. Did I say tips? Just seeing if I'm paying attention.

The four wannabes who performed ahead of me were awful. The one directly ahead of me stayed out there too long. When the red light erupts it's time to un-ass the stage. He saw it as encouragement to continue talking. Why couldn't Jack Kevorkian be here to mix his water bottle? When it was my time to go out there the crowd looked as though they had their mouths filled with Novocain.

"Zaak, we loved you. " I heard, smiling in return. " How soon can you come back? " There's nothing quite like a show that goes well. And then there's this night. They liked me. I thought I was a bit flat I left wondered if they liked me, liked me more than the loser on stage ahead of me, or wanted to know how fast can I bring back ten, drunken, paying guests.

The traffic clog was as thick as bugs on a bumper. There was a string of tail lights streaming for miles. Problems at the Lincoln Tunnel again. I looked at my watch wondering if I would make it on time. If I were a gambling man I would say, no. But I gave up gambling twelve years ago. Whew, another habit gone. The radio's traffic station reports extensive delays. Even I can see that.

Gotham Comedy Club:

This comedy staple is located in New York City's west side. It is one of the few nightclubs where parking is hardly a cause for concern. Most entice the performers with easy come-ons and over-priced parking lots with which they have a financial rooting interest in. This is the level of the 'Pre-show'. Cast mostly around 6:30pm on Fridays and Saturdays. Here the performers must bring in 3 paying customers, who agree to a two drink minimum each. No problems, right? Fingers crossed so help me.

"You are.?" An aggressive woman queried me as I entered. "Zaak Fresh." I three-quarter grinned back at her. "Are your guests (those who paid to get it) here, she countered, looking past me, pursuant to something/someone more important than me. My first thought was that she might be one of my ex wives. I said, " Yes " pointing to four people next to me. I've been known to pay for my own guests to come see me. And all of them earn yearly far more than I make. What a disgrace. It was Will Rogers who said, " I never had a friend I really liked. "
"Very well. " She released. " You may proceed to be seated. " Walking past her into the spacious, street level, club I could not help wondering if my beautifully colored, leased, Acura RSX would be in good safe parked outside. Seeing it out there on the mean ole' city streets on cinder blocks would be the low point of my already low life. It would have to be. Certainly the added LoJack protection system I have gives me piece of mind. Nice. The MC leaned over and asked me, " How do you want me to introduce you? "  As long as I'm mentioned in any other way from the past tense I'm ok. These days, I've got a short list of priorities. Keeping out of rehab and off the morgue drawer are high on that list. I did not have to sit long before my name was called. Too bad. The comedian before me had the crowd roaring with laughter and that's never good for the next guy to be called to perform.

" I'd like to introduce Zaak Fresh! " Undaunted I strode to center stage. The audience took time warming to me; given that my clean and easy style catches most off-guard. Easy listening laughs take longer to sink in. There were my usual zingers and stingers. Few of which were absorbed in the identical spirit that I issued them. But when I was done the crowd was noisy. Cheering more loudly than at any time since I started doing comedy. The MC closed me out by saying, " Take a bow, champ. " I replied, " I'd rather take cash. "

Canada bound:

Who in their right mind is awake this early? Growing up in my father's house anything beyond " Early to rise. " was felony.
With thermos filled with ice tea, trustworthy, dashing, RSX-type S beneath me I set my sights on the Garden State Parkway. Three hundred miles into the trip I asked myself, " Where is my birth certificate? " Oh, no. I immediately slowed the car to a crawl and stopped at the side of the New York Thruway. It did not take long to decipher that the document sought was nowhere to be found. Mistake! I made an illegal U-turn and head back to the starting line. I was about one hundred and fifty miles going south; when I came upon the toll collector, who wrote my license plate number for me having made that illegal turn. Ahhhhhhhhh! Suddenly, I had post vacation syndrome. And I hadn't gone anywhere! Determined, I'm still Canada bound.

A week later I discovered these northern drivers are more aggressive than one might think even by New Jersey standards. Fortunately, my RSX-type S handled it is excellent fashion. Downtown Toronto is lovable. It's inner city is anything but. Dotting the clean sidewalks are a plenitude of outdoor café's that reek of everything one likes about small town living while feasting on everything that the big city has to offer. And aside from traffic problems on the Don Valley Parkway, one week after their grand opening, arriving too early as usual, I stood in front of the famous Yuk Yuks Comedy Club. . I fell in love with this city not long after stepping onto the pavement.

Yuk Yuks Comedy Club: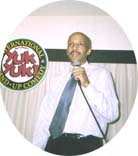 Since 1976 Yuk Yuks clubs have stretched across Canadian like a welcoming breeze. A total of 12 clubs house over 200 professional performers; all who deliver outstanding entertainment to any audience or age group. With mister ego (me) they ought to. Heck, in a few hours I was to make this club mine. One week earlier I stood outside and was told that their liquor license was not yet obtained, thus canceling my show that night.

It is Monday. And finally I get my chance to show what I can do. Once street level at the club I see an old style, movie theater, cutout in the exterior wall. A pretty, buxom, cashier takes your admission cost and guides you inside. Once securely in I saw the club is in the basement quite literally. Though Yuk Yuks downtown is certainly not a below grade facility. Lining the walls are endless rows of notable comedians who have performed for the comedy giant before. Their immortalized images are not encased in the ordinary K-Mart frames; rather part of form fitted sections that perfectly line the walls. As of this writing I still have not come to grips with why my face is not amongst those displayed. A ghastly oversight? Let's hope that's all it is.

The club has few negative points. The stage area is cramped. The clubs noteworthy name is much too small, painted with an industrial appearance on a circular sign off to the left of the stage, appearing to have been a last minute addition. Having said that this is a first rate comedy club by everyone's standards. The crowd was good. My only complaint about them was that they were ready to pounce and laugh at each utterance of four-letter words. Young people. After a stirring round of applause I left the stage, shook a bunch of hands, and headed outside.

3:45am : Zero Hour. Time to hit the road. The alarm clock is blaring. In a few minutes I'll be in search of the expressway south to New Jersey in an RSX that more than lived up to my expectations of traveling low to the ground, a thousand miles in a sports car. In actuality, it was paradise. The car drives itself. I was only permitted, after a generous lease arrangement, to be part of it all. In six months I'll make a return run up north. There's always another show. All in all, I'm feeling kind of lucky to laugh living someone else's life.
One more thing, do they still say 'spiffy'?